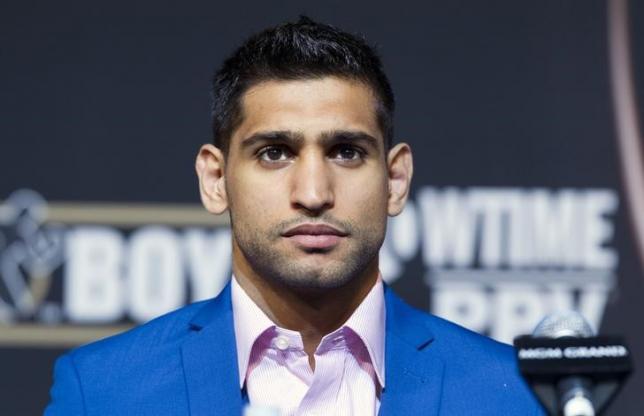 ---
British-Pakistani boxer Amir Khan's wife is seemingly standing by his side even though she is said to be "absolutely disgusted" by her husband's alleged sex tape, The Sun reported.

Boxer Amir Khan, wife to star in Kardashian-style reality show?

An X-rated video on US porn sites allegedly shows the 30-year-old British-Pakistani boxer carrying out a sexual act while speaking to a female model from Arizona on Skype. It is believed the woman in the video first met the boxer in 2010 and that the video was made shortly after Amir married Faryal Makhdoom in 2013.

On Tuesday, 25-year-old Faryal shared a Snapchat post showing images of Amir with his daughter Lamaisah. In one video, his daughter is seen to be boxing with him with the caption: "Haha genes?"

Boxer Amir Khan's 'sex tape leaked' on porn website 

The family went to watch Amir work out in his gym last night, and Faryal – perhaps realising she would be under even more scrutiny after news of the tape leaked – showed a picture of Lamaisah in the ring with the words "supporting daddy #TeamKhan" written.




Speaking after the sex tape emerged, Amir's dad Sajjad Khan, 54, asked his critics to 'beware'. He said, "Unfortunately, because of the position Amir is in people think they can say whatever they like about him; sadly, that is the world we are in. Even if it's all lies of course it still causes the family some upset."

Amir Khan targeted by 'inept' blackmailer over 'sex tape'

He added, "We thought everything was calming down after all the nonsense with his wife and hoped we were starting the New Year afresh and now something else happens. It's ridiculous. When you are in the public eye allegations surface. Amir is aware of that, it is part and parcel of being famous. Not so long ago someone tried to blackmail my son and there was no truth whatsoever in his claims."

This article originally appeared on The Sun.
COMMENTS (5)
Comments are moderated and generally will be posted if they are on-topic and not abusive.
For more information, please see our Comments FAQ