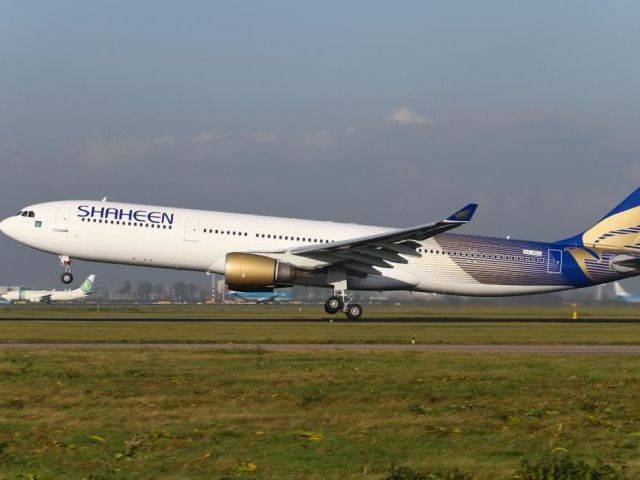 ---
A Shaheen Air plane made emergency landing at Lahore Airport after one of its engines caught fire on Sunday, Express News reported.

The flight 902 arriving from Manchester landed at its destination Alama Iqbal Airport using only one of its engines. According to spokesperson civil aviation authority, the engine of Airbus 330 had caught fire before landing but the pilot successfully averted the accident.

This is not the first time a Shaheen Air flight has met with an accident. In December last year, a Karachi-bound Shaheen Air flight was delayed following emergence of some technical problems during its takeoff.

Karachi-bound Shaheen Air flight suffers technical problem during takeoff

Similarly, in November last year, a Lahore-bound Shaheen Air flight, carrying 121 passengers and crew members, had made an 'emergency landing' at the Lahore airport as the aircraft skidded off the runway. The CAA had accused the pilot of the passenger flight of being drunk and fatigued as he flew the plane.

In June, a Dubai-bound Shaheen Air flight narrowly escaped a crash when its tyres burst just before takeoff at the Lahore airport.

The engine of Shaheen Air flight NL-766 started making loud noises seconds before takeoff which prompted the pilot to apply emergency breaks to keep the plane on the runway. However, the breaks caused three of the plane's tyres to burst. No loss of life was reported.
COMMENTS (3)
Comments are moderated and generally will be posted if they are on-topic and not abusive.
For more information, please see our Comments FAQ