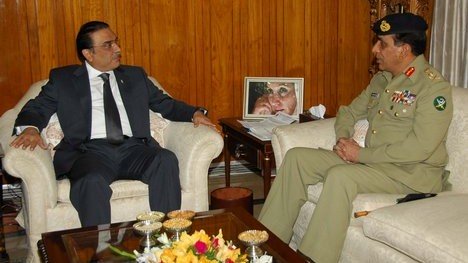 ---
ISLAMABAD: President Asif Ali Zardari has said that Pakistan is a sovereign country and it is the mandate of the Pakistani government and its armed forces to take a decision about launching any counter-insurgency operation anywhere in the country.

"No foreign dictation will be accepted in this respect," the president said in a meeting with Chief of the Army Staff Gen Ashfaq Pervez Kayani who called on him at the Aiwan-e- Sadr on Wednesday. The statement comes days after US media claimed that top American commander in Afghanistan General Stanly McChrystal met General Kayani after the Times Square attempted bombing and urged him to immediately launch an operation in the North Waziristan tribal region.

Though General McChrystal denied the report the very next day, security analysts say pressure is mounting on Pakistan to go after Taliban insurgents in North Waziristan. Sources said that the president and the army chief discussed matters related to the country's overall security situation and professional and operational matters of the armed forces. General Kayani also met Prime Minister Yousaf Raza Gilani and discussed with him professional matters, national security and the law and order situation.

He also updated him on the relief activities in Hunza. The army chief told the prime minister that the army was extending full help to hundreds of people affected by the artificial lake in Hunza. Premier Gilani appreciated the efforts of army engineers who are working round-the-clock to avoid further losses in Hunza.

The country's overall security situation also came up for discussion. In his meeting, President Asif Ali Zardari congratulated the army chief on the successful completion of Phase II of the biggest wargames, codenamed Azm-e-Nau. He said that the government would provide all resources to equip the armed forces with modern weapons. Sources said that the president and the army chief also exchanged views on the outcome of the war on terror, internal and external security, prevailing situation on the Pak-Afghan border and statements given by some US officials following the arrest of suspected New York bomber Faisal Shahzad.

President Asif Ali Zardari made it clear that Pakistan would not compromise on its security. "We will do whatever is indispensable for our security and sovereignty," he added.

Published in the Express Tribune, May 13th, 2010.
COMMENTS (4)
Comments are moderated and generally will be posted if they are on-topic and not abusive.
For more information, please see our Comments FAQ