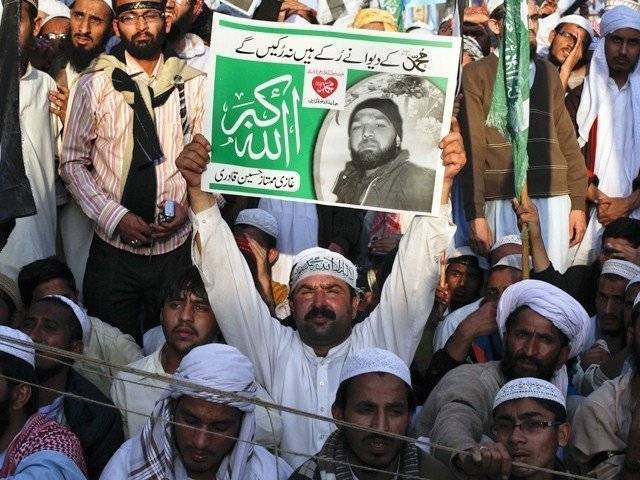 ---
Individuals affiliated with the Sunni Tehreek and the Tehreek Labbaik Ya Rasoolallah allegedly vandalised the outer wall of Karachi Press Club Wednesday night.

In October last year, artists painted Pakistani activists Yasmeen Lari, Parween Rahman, Fatima Surraya Bajia, Sabeen Mahmud and Zubeida Mustafa on the wall in connection with I Am Karachi's' latest project. Facebook user Bilal Farooqi posted photos on Thursday showing graffiti scrawled across the wall.

[fbpost link="https://www.facebook.com/bilalfqi/posts/10158073669830241"]

Shaan Taseer booked for 'hate speech' following Christmas message

Earlier on Wednesday, Punjab Police arrested over 100 clerics for attempting to hold a rally in Lahore to 'celebrate' the assassination of former governor Salmaan Taseer on his death anniversary. The clerics wanted to come together at the Main Boulevard in Lahore's Gulberg area.

The Tehreek Labbaik Ya Rasoolallah organised two separate rallies, one on the Mall and the other in Gulberg area. The rallies were led by Ashraf Asif Jalali and Hafiz Khadim Hussain Rizvi respectively, sources told The Express Tribune.

Sunni Tehreek demands police charge Shaan Taseer with blasphemy

In March, dozens of protesters marking the chehlum of Tasser's assassin Mumtaz Qadri stormed Lahore Press Club and attacked journalists. They also attempted to damage the vehicle of a private news channel.

Over 100 clerics arrested in Lahore for trying to 'celebrate' Salmaan Taseer's assassination

On Saturday, an FIR was registered on Saturday against Shaan Taseer, a son of the slain Punjab governor for 'hate speech' after he sent out a Christmas message.The Sunni Tehreek has been pressing police to register a case against Shaan under Section 295-C of the Pakistan Penal Code.


COMMENTS (2)
Comments are moderated and generally will be posted if they are on-topic and not abusive.
For more information, please see our Comments FAQ