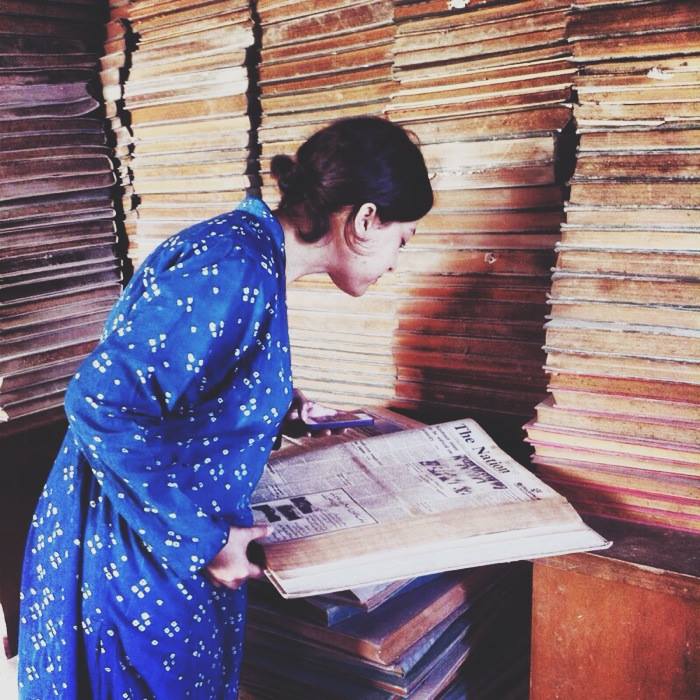 ---
Journalist and author Sanam Maher's upcoming book on Qandeel Baloch has been tipped as one of the most awaited reads of 2017 by the Huffington Post. Qandeel, who rose to fame after posting videos on social media, was murdered by her brother in a case of 'honour' killing last year.

Speaking to The Express Tribune, Maher reflects on the rise of Qandeel Baloch, the unfortunate end to her life and a glimpse into how she was perceived in life and in death.

Pakistani authors make it to HuffPo's most anticipated books of 2017

Q: Where did you get the idea to publish a book on Qandeel Baloch? And why do you think it's important to do so?

A: While she was alive, Qandeel only ever appeared on my radar when she was in the news for something she'd done that offended or shocked us - I didn't follow her on Facebook, Twitter or Instagram. I wasn't listening to her - her words were drowned out by everything that those around me said of her. When she was killed, I thought the news was fake, as did so many of us. It shocked us, but the closer I look at Qandeel's last few months, I wonder why we didn't see it coming.

My initial feelings of anger and deep sadness at how this woman had been treated gave way to frustration that we are constantly taken by surprise when these things happen - how do we not know ourselves and our countrymen better, how are we unable to veer off the path to an inevitable, brutal death for someone like Qandeel, and would we have done things any differently if we had known this could happen to her?

This book is my attempt at doing so, of telling the story of a place and people who celebrate a woman like Qandeel, but also praise the brother who murdered her. We're both.

I felt like my friends and I existed in a very liberal bubble that encounters the rest of Pakistan - the majority, because we really are a very tiny minority - only in moments of horror. When Salmaan Taseer was shot dead, when Mumtaz Qadri was celebrated, when Sabeen Mahmud was murdered... the list is very long. At these times, when our bubble brushes up against the world outside, we are terrified, and retreat further into our circles of likeminded people. It is important for us to stop retreating, and to engage, to understand.




Q: Have you always wanted to be an author? How did you begin writing?

A: I've been writing since 2007, when I began my career in journalism. Being an author, having a book go out into the world - I didn't even dream of it. I actually started out reviewing films, television and books. So I was reading other people's books and I reviewed THEM. I never thought I'd be at the point where I got to tell my own story.

But I worked on a piece last year for Al Jazeera that caught the eye of a couple of publishers and I was approached with the idea of working on a book. This wonderful opportunity came to me, and there was no way I could refuse. I was very, very lucky to be able to choose a publishing house that is fully committed to the work, and an editor who understands the nuance in Qandeel's story and isn't interested in treating it as a sensational moment in our history but instead as a story that gives the world a glimpse of who we as Pakistanis are right now.

This woman has been making the internet a safer place for Pakistani women

Q: How would you describe your style of writing and what books or authors have had a strong influence on you or your writing?

A: I always joke that I make it up as I go. I think my style is still developing, and it takes stronger form with each piece I work on. That's the hope. And that's the genius of having a great editor. I was given some great advice when I started out in journalism: either say what everyone else is saying but say it better or say what no one else is saying.

It's simple, but it guides my work. Whether I'm working on a story on how the burger came to Pakistan, or on the first all-girl boxing team to come out of Lyari or on the ways in which Ahmadi businessmen are targeted.  With any story, I look for what we're missing, what brings the story home to us and what makes me curious about it. What do I, as a reader, want to see coming out of Pakistan?

As for books or authors that influence me - that list is huge and changes depending on what I'm working on. I just read a brilliant true crime story from Japan called 'The People who Eat Darkness'. It's the kind of work I aspire to do.

Lahore-based start-up launches app to replace car keys

The book in a nutshell: Who was Qandeel Baloch and how did she come to reveal a fundamental schism in our understanding of ourselves as Pakistanis and Muslims?

Maher started initial research for the book by watching and reading everything Qandeel ever did or said – any interview, social media post, TV appearance, acting or modeling assignments. Maher met people who knew Qandeel – people who had worked with her, those who loved her and those who hated or trolled her. The officials who are working on Qandeel's case have given their perspective as well.

Most of the research for the book was done in Multan, DG Khan and Shah Sadrin while the remainder in Islamabad, Lahore and Karachi. The book scheduled to be published in 2017.