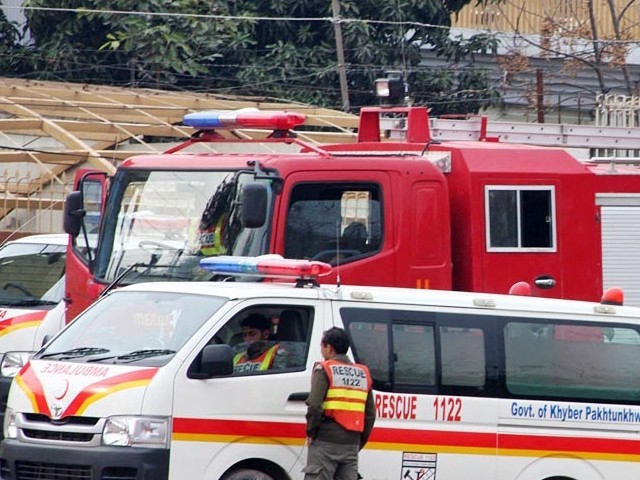 ---
LAHORE: The Punjab Emergency Service aka Rescue 1122 claims to have saved 731,107 lives in 2016 during

671,686 rescue operations in all districts of the province while averaging seven minutes in emergency response time.

These figures were disclosed by Rescue 1122 Director-General Dr Rizwan Naseer while presiding over a meeting of the emergency service officers at the Lahore headquarters on Monday.




The meeting also approved several programmes to prevent emergencies, including the School Safety Programme and Rescue Mohafiz Programme, through the establishment of community emergency response teams in all the union councils in 2017. These teams would be trained for disaster response and community based risk reduction for prevention of emergencies.

The officials also decided that Rescue 1122 shall mark 2017 as "Year of Safety".

Earlier, Dr Rizwan reviewed the performance of Rescue 1122 during 2016. The Provincial Monitoring Cell (PMC) briefed the Rescue 1122 chief that 238,785 road traffic accidents (RTA) took place across Punjab in 2016 with an increase of 2.44%. The number of RTAs reported in 2015 was 227,390.

Similarly, 14,033 fire incidents were reported across Punjab in 2016 with an increase of 9.64%. The number of fire incidents reported in 2015 was 11,565.

Rescue 1122 responded to 327,843 medical emergencies in 2016 with an increase of 5.21%. The number of medical cases and emergencies responded to in 2015 was 295,323.

The Punjab Emergency Service also responded to 21,182 calls related to crime in 2016 as compared to 21,747 in 2015. As many as 154 explosions were reported in 2016 as compared to 173 cases during 2015.

Rescue 1122 also responded to 1,097 cases of drowning, 567 building collapses and 68,025 miscellaneous incidents.

DG Rizwan said Rescue 1122 had emerged as a successful model of emergency services delivery in the past 12 years.

A motorcycle ambulance service was being established across Punjab that would strengthen the operational capacity of the emergency services to provide swift response to any emergency.

He added that Rescue 1122 ensured the provision of basic right of timely emergency care without discrimination of caste, colour or creed. Now the emergency service shall undertake evidence-based research on the number and nature of emergencies in order to recommend measures for prevention of emergencies.

Published in The Express Tribune, January 3rd, 2017.
COMMENTS
Comments are moderated and generally will be posted if they are on-topic and not abusive.
For more information, please see our Comments FAQ