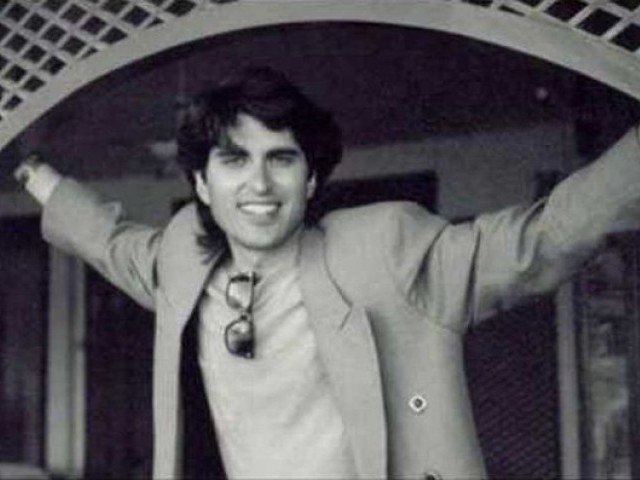 ---
KARACHI: As we welcome 2017, one cannot stop to think the emotional train-wreck the past 12 months have been.  From a gorilla testing the depths of mankind's social evolution to a reality TV star pushing his way into the most powerful office in the world, 2016 has seen it all.

In between, the world also saw several of its entertainment icons, particularly belonging to the musical spectrum, take a final bow.

Some are even calling it the worse year since 1970-71, when rock legends and fellow 27 Club alumni Jim Morrison, Jimmy Hendrix and Janis Joplin met tragic ends within the span of a few months.

However much like how these three have managed to live on through their songs even after more than four decades of their demise, the icons that parted ways this year did not do so without leaving a major impact.

Pop icon Prince dead at 57

Here's a look back at some of the pop icons we lost to 2016.

David Bowie: January 10




David Bowie, Ziggy Stardust, The Thin White Duke or simply David Robert Jones is perhaps one of the most, if not 'the most' prolific and versatile song writers of all time, with his music career spanning half a century.  His legacy is built on producing extensive hits in a large variety of genres ranging from glam rock, electronic to neo classical to even jazz with his latest album Blackstar. Bowie was also renowned for his over the top stage theatrics and also ventured in acting. He portrayed a fictional version of Nikolai Tesla in Christopher Nolan's Prestige.  Bowie died from liver cancer, two days after his 69th birthday and the release of Blackstar.

Glenn Frey: January 17




Roughly a week after David Bowie's passing, Glen Frey, the co-founder of renowned rock band Eagles was pronounced dead from various medical complications. Frey, alongside drummer Don Henley, is regarded as the driving force behind the band's commercial and critical success during the 1970s. The two co-wrote several hits for the band, including the evergreen Hotel Californi , One of These Bights and Best of My Love.  During the 80s Glenn Frey embarked on a solo career producing hits such as You Belong to the City that was also featured on the soundtrack of the popular television series Miami Vice.

Junaid Jamshed laid to rest in Karachi


Prince: April 21






Prince Rogers Nelson's influence extended beyond the world of music with the United States Senate passing a resolution to commemorate his achievements following his death earlier this year. Among the plethora of fans that mourned his death included a wide variety of celebrities from the entertainment world and also President Barrack Obama. Prince, who at one time appointed the moniker of 'The artist formally known as Prince' for himself was a formidable force in the world pop, rock and funk music. He was proficient in a variety of musical instruments having been a virtuoso guitar player in his own right. Some of his greatest hits included Purple Rain, 1999 and Cream.

Amjad Sabri: June 22




Amjad Sabri's death is seen not only as a blow to the arts and culture fraternity of Pakistan but also as a reflection of the complex web of moral conflicts our society has been entangled in for quite some time now. The gunning down of the qawwal, who was responsible for introducing a whole new generation to Sufi music, back in June evoked sentiments of grief, anger, rage and self reflection from the public at large. Hailing from a family of qawwals, the son of Ghulam Farid Sabri of the famous Sabri Brothers, Amjad was embroiled in this line of work since an early age.  His first performance came at the tender age of 12 when he joined his father on stage. Sabri toured extensively, performing in places such as Europe, America and India, and on many occasions claimed that he was spreading the message of Islam through his work. His last recorded work was in Coke Studio and was released after his death.

Amjad Sabri shot dead in Karachi

Leonard Cohen: November 10




Leonard Norman Cohen's work, be it in music, poetry or novels is responsible for influencing a plethora of musicians and artists. The Canadian folk musician has around 14 studio albums to his credit with songs covering a variety of themes including religion, politics, human interaction and existentialism. His most famous hit was perhaps Hallelujah, first released in 1984 and then heard on a variety of movies and television shows. Lenard Cohen died at the age of 82 after battling cancer.

Junaid Jamshed : December 7




Junaid Jamshed Khan can be best described as the voice of a generation in more ways than one.  Born and raised in Islamabad, the son of an Air Force pilot, Junaid stepped into the realm of popular music in Pakistan when it was in its embryonic phase. He alongside keyboardist Rohail Hayat, bassist Shahi Hasan and guitarist Nusrat Hussain formed the renowned pop band Vital Signs in the early 80s. The group immediately rose to fame with the success of Dil Dil Pakistan, which was followed by a string of hits including Sanwali Saloni and Aitebar. The band's music drew influence from western acts including, AHA, UB40, Rusha and Pink Floyd, while the lyrics were penned down by Shoaib Mansoor. In the 90s Junaid embarked on a solo career producing hits such as Jana Jana and Na Tu Ayegi. At the height of his popularity, Junaid drifted from the world of music and found solace in religion, rendering his voice in naats from then on.

George Michael: December 25




George Micheal came into music as one half of the pop due Wham! with best friend Andrew Ridgeley. They were responsible for hits such as Wake me up, Bad Boys, Last Christmas, Club Tropicana and Careless Whisper. Afterwards he began a career as a solo artist producing hits including Faith, Freedom 90 and Jesus to a Child.  The singer's life was plagued with controversy during the 90s wherein his sexuality and drug usage became a public affair.  In spite of this, he was highly recognised for his philanthropy and activism in causes surrounding LGBT rights and HIV/AIDS awareness.

Have something to add in the story? Share it in the comments below. 
COMMENTS (1)
Comments are moderated and generally will be posted if they are on-topic and not abusive.
For more information, please see our Comments FAQ