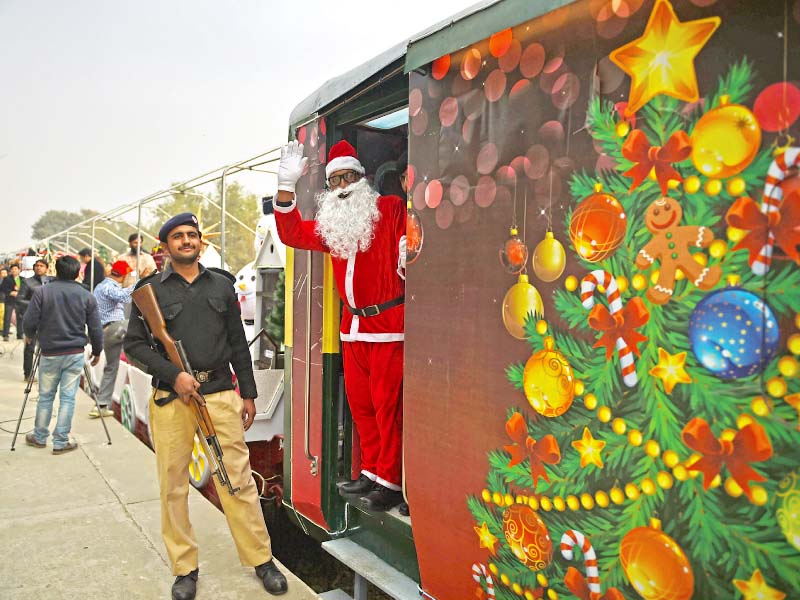 ---
ISLAMABAD: Pakistan Railways inaugurated a special Christmas peace train on Thursday that will travel across the major cities of Pakistan and spread the message of love, peace and religious harmony.

The train comprising representatives of different agencies will help counter religious intolerance.

Railways Minister Khawaja Saad Rafique and Human Rights Minister Kamran Michael inaugurated the train at Margalla Station. This train consists of three galleries and two floats which reflects religious harmony and love with Pakistan.

The countrywide Christmas Peace Train started its journey from Rawalpindi and after passing through small and major cities will reach Karachi on December 31.

Speaking on this occasion, Rafique said running a special train on the occasion of Christmas is unique in the region as there has been no precedent of it in countries like Pakistan, India and Bangladesh.

"I can't say with authority but I think even there is no example of it in the countries of Europe," he said, adding that authorities were interested to run this sort of train last year too but could not succeed due to time related issues.

"Pakistan's Constitution provides equal opportunities to everyone to live and progress," he said, urging the public in general and the Christian community in particular to continue to their commitment to strengthen the country.

He also shed light on the role and struggle of the Christian community in the development of Pakistan. He said the Pakistani flag is incomplete without minorities and Pakistan cannot go ahead without religious harmony.

"Through this initiative, Pakistan Railways hopes to create awareness about inter-faith harmony in the country and to mark Christmas as well as the birth anniversary of Quaid-e-Azam, Muhammad Ali Jinnah," he added.

The train has been launched in collaboration with Pakistan Tourism Development Corporation, Pakistan Railways and Human Rights Division. To mark this event, Michael sang a song along with the renowned singer Shafaqat Salamat Ali.

Published in The Express Tribune, December 23rd, 2016.