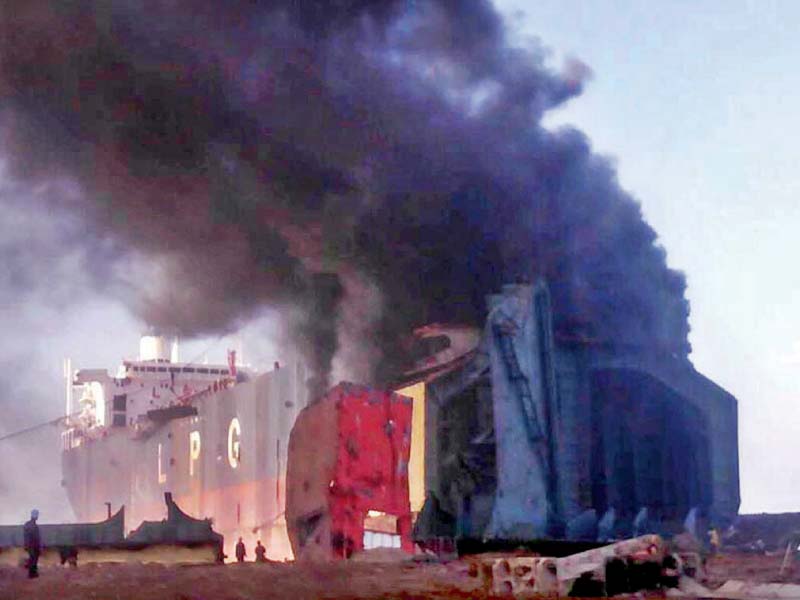 ---
KARACHI: The government and ship-breakers have not learned from the previous oil tanker tragedy and, due to their apathy, another such incident had to be contained on December 22, said Gadani ship-breaking yard on Thursday.

The NTUF deputy general secretary was addressing a press conference at his office in Karachi over the fire incident that occurred earlier in the morning at the Gadani ship-breaking yard. Fortunately, no loss of life was reported in this incident.

A fire started at a decommissioned LPG container moored at Plot No 60 at the Gadani ship-breaking yard while labourers were cutting through its walls using wielding torches, he said.

Around 100 workers were aboard the ship and they all disembarked immediately using a crane after some of them alarmed them about the fire, he said, adding that it started at around 11am.

"The incident speaks about the government and ship-breakers' lack of concern towards workers' lives," he criticised. "No improvement has been made to ensure safety at workplace. Despite witnessing the deadliest incident in the industry history, no safety measure has been taken," he said, referring to the November 1 oil tankers tragedy in which 26 workers were killed.

Gadani Ship Breaking Workers Union president Bashir Mehmoodani was also present during the press conference. He said that the ship-breakers' only concern was the money they were making from this work.

He said that the matter of four people missing in the previous incident has yet to be resolved and the authorities have showed no concern towards it. "The police are refusing to register an FIR about them. Without this, their case cannot be put forward. The families of Imran, Shafiq, Hanif and Sherdad are going through distress as neither have they recovered their loved ones' dead bodies nor have they been informed about them," he said.

HRCP launched fact-finding report

Meanwhile, the Human Rights Commission of Pakistan (HRCP) launched a report of its fact-finding mission on the November 1 tragedy. The report read about the shortcomings in the management and authorities check in the ship-breaking work.

The report laid responsibility of the fire on the yard's owner, managers and contractors, Customs, Balochistan Environment Protection Agency and Balochistan Development Authority.

Speaking at the report launch, Pakistan Institute of Labour Education and Research executive director Karamat Ali said that in accordance to Article 9 of the Constitution, which guarantees right to life, safety at workplaces should be ensured. "A person spends most of his time at the place he works and when he is not given safety at his workplaces, his right to life is violated," he remarked, adding that there was a need of making new laws in the country to address these issues as the existing were dating back to 1934.

Published in The Express Tribune, December 23rd, 2016.