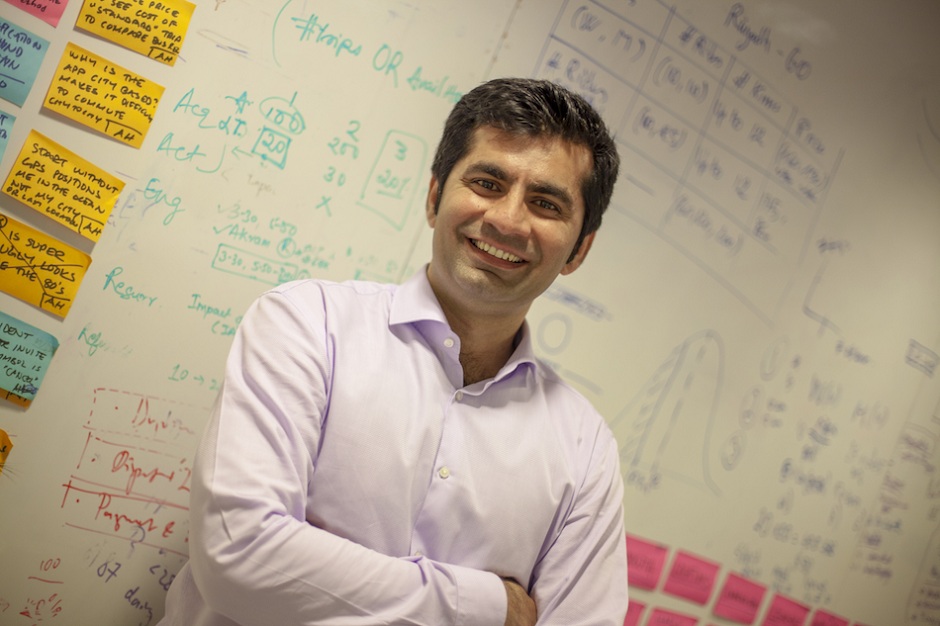 ---
"The idea was not just to build a big business, but start one that would have a big impact," explains Mudassir Sheikha, co-founder of ride-hailing startup Careem. "We wanted to improve the lives of thousands of people and change society for the better."

And it seems like Mudassir's on track to succeed on both fronts. Careem's now the newest ride-hailing unicorn – it announced today that it's pocketed a substantial US$350 million from a slew of investors including Rakuten and Saudi Telecom.

The funding round is the single largest investment in any startup from Dubai. And there still might be more to come – the company says it's planning on locking in a further US$150 million at some point.

Humble origins

The idea for a transportation service occurred to Mudassir and his co-founder Magnus Olsson back in 2012. Both were working as management consultants at McKinsey but itched to do something more rewarding, something entrepreneurial.

Careem valued at $1b on Saudi Telecom deal

"We made a list of problems we faced during our time in the Middle East, everywhere from healthcare, to education, and logistics […] Eventually we settled on transportation because if you're a consultant in Dubai, then you're constantly traveling to markets like Saudi Arabia, Egypt, and Pakistan and you're dealing with ground transport companies on a daily basis," says Mudassir.

"We understood how bad service reliability levels were and we knew we could use technology to improve how these businesses were run and take it to the next level."

Mudassir's prior background in tech startups certainly helped the cause. The entrepreneur, who grew up in Karachi, Pakistan, moved to the US for college, graduating from the University of Southern California with a degree in economics and computer science in 1999. He went on to finish a masters from Stanford in 2003.

His first exposure to tech came with a stint at Silicon Valley startup Brience, which had raised US$200 million in funding and was considered a hot prospect for an IPO. But the dot-com crash hit badly and it was later acquired.

Mudassir moved back to Pakistan but his tech roots stayed with him. He co-founded DeviceAnywhere in 2003 to help test and monitor the performance of mobile apps and websites. The startup eventually grew to a team of over a hundred people – spanning the Bay Area and Pakistan – before being acquired by Keynote in 2008.

It was then that Mudassir chose to join McKinsey, working out of the Dubai office.

"The idea was that I spend two years in McKinsey and go back to the entrepreneurial world. But two years became four and I figured I have to do this now because I'm not getting any younger," he says.

The founder met his "partner in crime" in Magnus – who was recovering from a brain surgery he had in 2011. "Both of us were in the same place at the same time," he smiles.

Driving ahead

For the first several months Careem functioned as a corporate transportation service, easing the pain for businesses to schedule employee commutes. There was no app – just a simple website for booking and scheduling.




Careem launches women drivers in Pakistan

It helped that the startup launched during the Muslim holy month of Ramadan – a period where there's a lull in business activity.

"Most people were looking for work and drivers welcomed us with open arms. As we explained the concept to them, they were receptive and told others about it," recalls Mudassir.

Work on a consumer product only started after the team noticed immense demand. Uber hadn't launched in Dubai yet – it only did so in the latter half of 2013 – so Careem got the opportunity to whet local appetites early.

The fledgling ride-hailing startup was able to snare a US$1.7 million seed round to compete. It quickly expanded to Saudi Arabia and Qatar – when demand for its online taxis started to go through the roof.

But Uber had a far bigger war chest, superstar investors, and an established brand. Mudassir knew there were several key battles that lay ahead and the team would have to do something different if it wanted to stay relevant.

It did so by tweaking the product to better meet local requirements. Mudassir bristles at the constant reference as an "Uber competitor." He believes competition is healthy, but maintains Careem has always cultivated a distinct identity and brand as compared to Uber.

One of Careem's unique features has been the ability, since day one, to schedule rides in advance and talk to a customer support agent over the phone. The team believed these were key in markets where technology adoption lagged behind the West and it would help foster trust in the service. Uber has just recently started rolling out scheduled rides but still doesn't offer any human agent support.

The new unicorn refers to its drivers as "captains" and is heavily involved in training and support, unlike Uber, which prefers to maintain a hands-off approach, using its ratings mechanism to weed out the bad apples. In some markets, Careem also offers medical and vehicle insurance.

"We help [the drivers] educate their children and raise the standard of living of their families. They come from very humble backgrounds and challenging environments, so we have the opportunity to change their circumstances in whichever way we can. In return, they take great pride being ambassadors of Careem," Mudassir last month told Forbes.

Saudi phone giant to buy 10% of Careem ride app

The focus on team culture is clearly paying dividends. Careem – which means "generous" in Arabic – offers stock options to all its full-time employees, even those at the lower rungs. Mudassir says he's worked hard to ensure employees view their jobs as fun, and not just as a slog.

Since the early days hustling in Dubai, Careem's now present in 47 cities across the Middle East and North Africa region. It works with a network of over 150,000 drivers. SimilarWeb says it's more popular than Uber in several markets.

But it's not just sitting back and letting things move on autopilot. After Uber announced it would invest US$250 million in Careem's core territory region last year, Mudassir's startup countered it by inking a deal to use self-driving electric car pods, helped by a US$100 million investment in research and development.

And Mudassir is cognizant of the challenges that still lie ahead.

"The region doesn't have good public transport and requires too much investment for it to get off the ground. Logistics and transportation continue to be big problems that need to be solved," he affirms.

This article originally appeared on Tech in Asia.