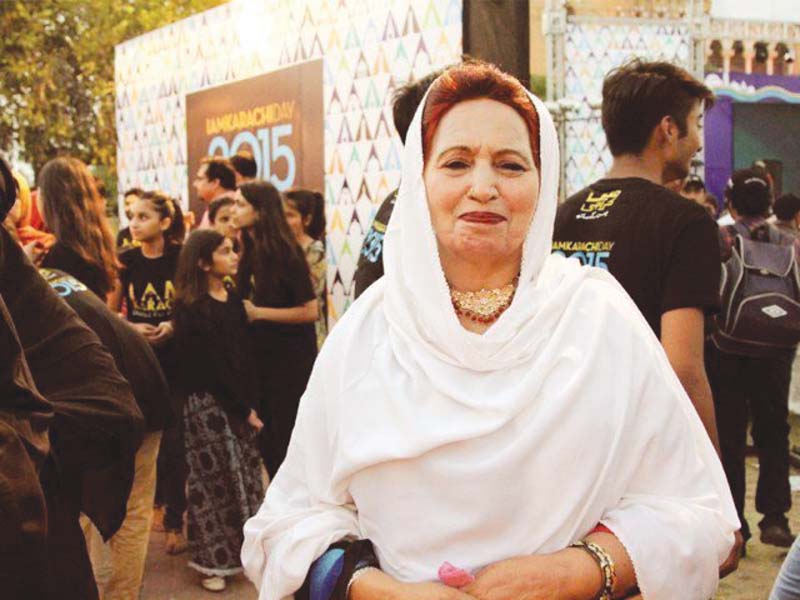 ---
PESHAWAR: The voice of Mashooq Sultan – who enthralled Pakhtuns with her silvery and mesmerizing rendition of folk songs for decades – has fallen silent.

Considered to be the 'Queen of the Stage', the 64-year-old Mashooq lost a protracted battle with hepatitis and diabetes, her son Zawar Husain told The Express Tribune.

She enjoyed a huge fan following and her traditional songs were a familiar staple for music lovers in Khyber-Pakhtunkhwa and beyond.

The vocalist, who was taken to the Lady Reading Hospital after her condition deteriorated on Sunday, died on Monday morning, according to Hussain.

Mashooq is survived by four sons and two daughters. She was laid to rest in a Peshawar graveyard.

"She was very passionate about the Pashto folk music and worked hard to preserve it," said Layeq Zada Layeq, author of a book titled Funkar Na Mari (Artists Never Die).

According to him, during her career spanning over four decades, she gained immense popularity. It seemed that no concert or musical programme was complete without her.

Winner of the prestigious Presidential Pride of Performance Award in 1996, she was also the proud recipient of more than 60 awards and medals for rendering invaluable services to Pashto music, Layeq said. Mashooq, he said, was an institution unto herself and was the most respected name in music at least among Pakhtuns in Afghanistan as well as Pakistan.

Besides Pashto, she also rendered songs in Urdu, Punjabi and Seraiki languages. She held sway over the Pashto music scene for decades.

Mashooq, whose style was simple and soulful, forged an emotional and cultural connection with her listeners, "an aspect that is somehow missing in today's songs," he said.

Born in 1952 as the Sultana Bibi in Matta, Swat, she was married to Walayat Husain, the son of the then famous Tabla Nawaz, Ummat Husain.

Although her family was in no way associated with music, but after marrying Hussain, she shifted to Banr, a destination yearned by musicians in Swat. Due to her love for music, her husband encouraged her to sing and was schooled by leading musician Rahdat Husain.

After her successful auditions and programmes at Radio Pakistan, she also performed on television, performing hundreds of songs.

After she discontinued her illustrious singing career, she shifted to Peshawar and lived at her home till her death.

"She never stopped; she learnt from established musicians and within a short span of time, recorded hundreds of songs," Aslam Khan, another renowned name linked with Pashto music industry, told The Express Tribune.

Mainly known for her association with folk music, she also performed Ghazals and other music genres.

According to Layeq, she worked in her first Pashto-language films – Darra-e-Khyber and Jawargar – when Pashto cinema was at its peak in 1972.

Although she could not achieve much success in Pashto films, her songs remained an integral part of these films. Over the past decade, the singer complaind of being ignored and remained confined to her two-room rented clay house in Peshawar.

Published in The Express Tribune, December 20th, 2016.

 
COMMENTS
Comments are moderated and generally will be posted if they are on-topic and not abusive.
For more information, please see our Comments FAQ