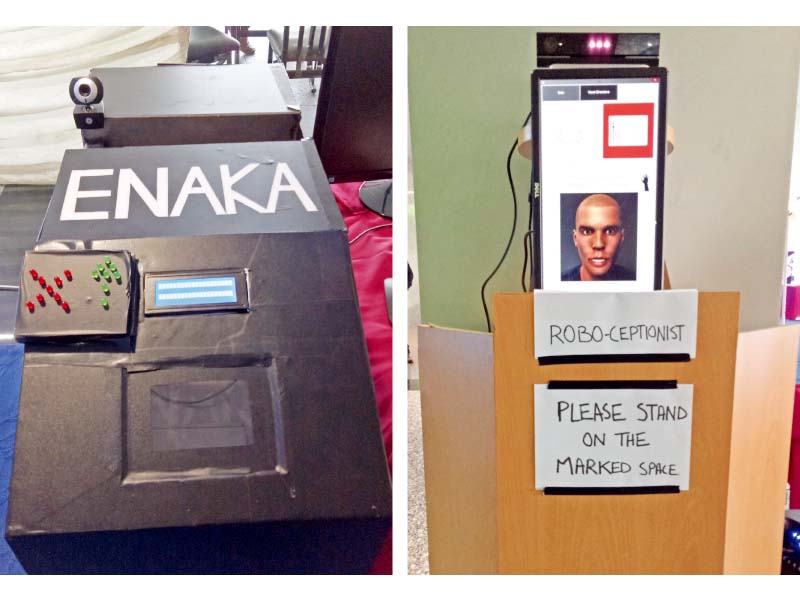 ---
LAHORE: A marriage of nuts, bolts and artificial intelligence were the order of the day at the Information Technology University which hosted its 5th Robotics Expo.

While addressing the closing ceremony, Adviser to Punjab CM and ITU Vice Chancellor Dr Umar Saif said that successful projects created by ITU students would be commercialised. "Students learned to solve problems relevant to society through technological activity."

Students of ITU designed and built 14 robot prototypes for local solutions. "In this era of robotic revolution, the students of our university are highly motivated and passionate as they are playing an immensely crucial role in bringing this revolution to Pakistan," Dr Saif said. "This time around, our country is not going to lag behind the technological run".

The expo showcased the Rekhta Urdu Word Predictor and translator which works in Roman and Noori Nastaleeq scripts. The creator, Muhammad Ali, is just 11-years-old. Meanwhile, Windope, a window cleaning robot, also made an appearance. It is designed to save the lives of window cleaners who work in adverse environments at high-rise buildings.

Mawazin is a medical project that protects against an overdose of anesthesia and administers drugs at a controlled rate.

There was also the highly innovative and thought-provoking Machine-e-Meharbani, a vending machine that takes plastic bottles as credit and provides food for homeless people in return.

Among the projects on display was the Eye-Writer, a robot designed for differently-abled people to carry out various tasks such as writing or controlling switches through eye movements.

Taabat-ul-Miyah is a robot that can autonomously control a residential water motor based on pressure from the main supply.

Former Pakistan Cricket captain Inzamamul Haq was chief guest on the occasion. He was impressed by the students' efforts. "I foresee a bright future for Pakistan in technological innovation and I hope that we are ranked among the best in the business one day."

Talha Rehmani, the lead of the robotics programme at ITU, said it was remarkable that undergraduate third semester students are demonstrating such innovativeness in robotics to solve locally relevant problems. "It is highly unprecedented at this level."

People from diverse fields attended the expo, including the CEOs of 15 companies, cricketers from the Pakistan national team, academics and students.

Published in The Express Tribune, December 18th, 2016.
COMMENTS
Comments are moderated and generally will be posted if they are on-topic and not abusive.
For more information, please see our Comments FAQ