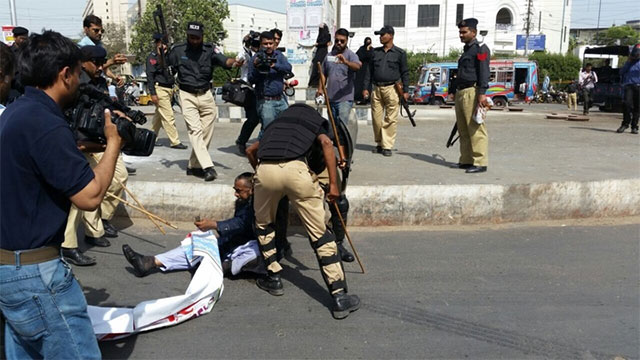 ---
LAHORE: The Punjab Professors and Lecturers Association (PPLA) ended their protest on Wednesday after government assurances that their demands would be looked into by a committee.

The PPLA started their protest from the Government MAO College to Punjab Civil Secretariat, demanding that college teachers be provided with one-step upgradation in their basic pay scale.

They also asked for across the board improvement in the pay scale of college teachers and said senior teachers should be provided with the benefits of providing years of service.

The teachers also requested relaxation of the newly-enforced early attendance system.

A large number of teachers took part in the rally and held banners and placards inscribed with their demands.

Speaking to the protesting teachers, the PPLA leaders said the government had neglected public colleges. They added the protest was organised to bring the government up to speed with the grievances of teachers.

A delegation of teachers was invited for negotiations with the Punjab Higher Education Minister Syed Raza Ali Gillani and the Punjab Higher Education Department (HED) Secretary Nasim Nawaz. The minister assured the teachers that their legitimate demands would be looked into by the government and a committee would be formed immediately. Later, a notification was issued by the HED, stating that a committee had been constituted that would submit a workable implementation plan on the charter of demands presented by the PPLA.

The committee members include HED Additional Secretary (Establishment) Tanveer Jabbar as the convener, Punjab DPI (Colleges) Director (Admin) Aman Ullah Khan as secretary, PPLA President Prof Hafiz Abdul Khaliq Naeem as member, HED Deputy Secretary (Budget) Khalid Bashir as member and an additional member nominated by the committee.

The committee had been tasked to provide recommendations within a fortnight. Subsequently, after successful negotiations, the teachers called off the protest.

Published in The Express Tribune, December 15th, 2016.
COMMENTS
Comments are moderated and generally will be posted if they are on-topic and not abusive.
For more information, please see our Comments FAQ