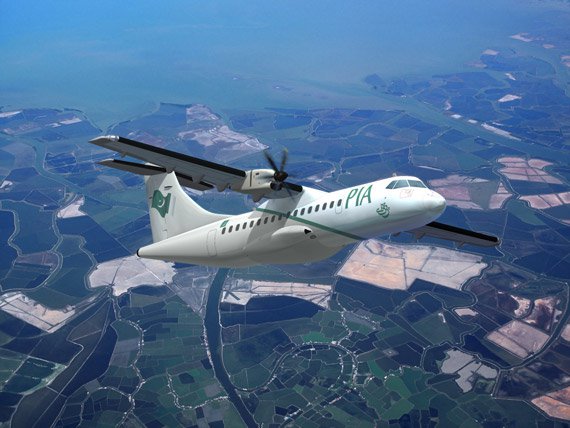 ---
Pakistan International Airlines on Monday announced it has temporarily suspended its ATR operation after a crash last week killed 47 people and a second aircraft reported technical issues shortly before it was supposed to take off overnight.

In view of Civil Aviation Authority's decision of holding shakedown tests of PIA's entire ATR fleet, it has been decided to keep all 10 ATR aircraft grounded till they are cleared after thorough examination, a press release from the airline stated.

Flight PK-661: ATR manufacturer team may join crash probe

Temporary suspension of ATR operation will particularly affect PIA's flight operation to smaller airports such as Gwadar, Turbat, Panjgur, Moenjodaro, Zhob, Bahawalpur, DG Khan, Chitral and Gilgit. Passengers are strongly advised to check status of their flights from PIA Call Center at 111-786-786.

The move comes after PK-661 from Chitral to Islamabad crashed in Abbottabad. Another PIA ATR faced "technical issues" late Sunday just before it was set to take off from Multan on a flight to Karachi and was called back to its parking bay, though the airline denied media reports that one of the engines caught fire.

A team from the France-based ATR aircraft manufacturer may join Pakistani investigators in probing the cause of the PIA plane crash that killed all 47 people on board on December 7.

PIA's flight PK-661 en route to Islamabad from the northern city of Chitral had crashed into a hillside near Abbottabad after one of its two turboprop engines failed and burst into flames.

Defies common sense that pilots will fly aircraft with defects: PIA

Among those on board was Junaid Jamshed, a former singer-turned evangelist and DC Chitral Osama Warich. One Chinese and two Austrian citizens were also among the passengers.

The turboprop ATR aircraft is being operated in more than 100 countries by 200 airlines, including India, that has almost the same climatic and ground conditions.

PIA Chairman Azam Saigol at a news conference after the crash had said the nine-year-old plane was deemed to be 'technically sound' when it last underwent a detailed inspection in October.

Engine trouble is initially believed responsible for Wednesday's deadly plane crash, but many questions remain, including about the airworthiness of the ATR-42 aircraft, stirring new worries about the safety record of the ailing national carrier Pakistan International Airlines.

Three more victims identified

Three more bodies of PK-661 victims were identified on Monday. Official sources of  Pakistan Institute of Medical Sciences (Pims) said the bodies of Junaid Jamshed's wife, Nayha Junaid, one Austrian citizen and Saleh Janjua (the pilot) had been identified.

Twelve bodies have been identified so far. All results of the DNA profiling are expected to be received by December 17.

Once the results are in, the bodies will be handed over to the families collectively, according to Pakistan Institute of Medical Sciences (Pims) administrator Dr Altaf Hussain.

The hospital arranged Quran Khawani for the deceased on Sunday wherein the victims' relatives, hospital staff and others prayed for the departed souls. Pakistan International Airlines has arranged accommodation for the registered relatives in a hotel near the hospital until the verification process in over.