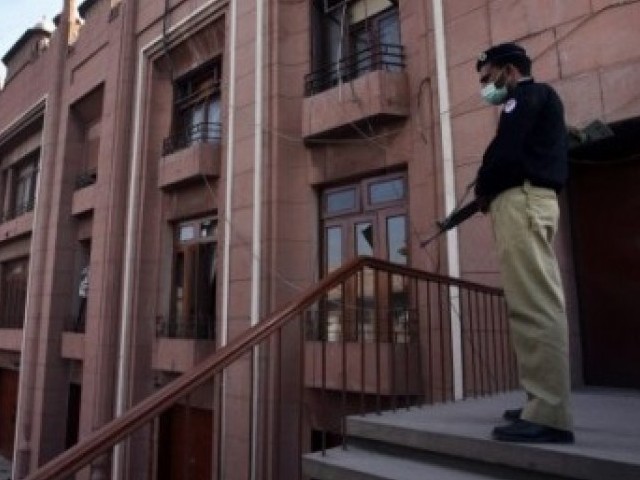 ---
LAHORE: A day Prime Minister Nawaz Sharif acknowledged contribution of first Pakistani Nobel laureate Dr Abdul Salam, an Ahmadi by faith, Punjab Counter Terrorism Department (CTD) conducted a raid on the community's headquarters and arrested four members on charges of 'hate speech'.

According to sources, CTD officials rounded up four members after allegedly 'barging' into the office of Jamat-e-Ahmadia in Rabwa near Lahore. Those taken into custody were affiliated with the community's magazines — Alfazal and Tehreek-e-Jadeed. However, the CTD produced only two suspects before the court for obtaining their remand.

State recognition for unsung hero, at last

Five others were booked under Sections 298-B, 298-B (a) and 298-C of Pakistan Penal Code (PPC) and 9-II (w) of Anti-Terrorism Act (ATA). The raiding party allegedly damaged the CCTV cameras installed at the office and took away computers and cell phones with them.

According to the FIR, the CTD officials conducted the raid to stop the printing of 'banned' magazines, although the matter remains pending before the Lahore High Court (LHC) which had issued a stay order in the case.

In this regard, a petition filed by Syed Jamshed Ali Shah was taken up by Justice Ali Akbar Qureshi on Tuesday, which demanded to stop the printing of the magazine. However, when the judge was informed that Justice Ayesha A Malik of the LHC had already granted a stay and the matter is pending before her, Justice Qureshi referred the matter to the same judge.

MPAs assured Ahmadis will not teach Islamic Studies

Meanwhile, Saleemudin, Jamat-e-Ahmadia spokesperson, told The Express Tribune that the magazines were banned in December 2014, and the court subsequently granted a stay in June 2015. "Since then the magazine is being published," he claimed.

On the other hand, CTD Punjab chief Additional IG Rai Muhammad Tahir told The Express Tribune that he consulted his legal team about the court stay and was informed that "there is no stay order intact until now".

He said a CTD team deliberated on the point and it was decided that there "is no judicial bar" on conducting a raid. "It is not correct to associate the raid with Dr Salam's acknowledgement," he said, adding the raid had nothing to do with any pressure group.
COMMENTS (2)
Comments are moderated and generally will be posted if they are on-topic and not abusive.
For more information, please see our Comments FAQ