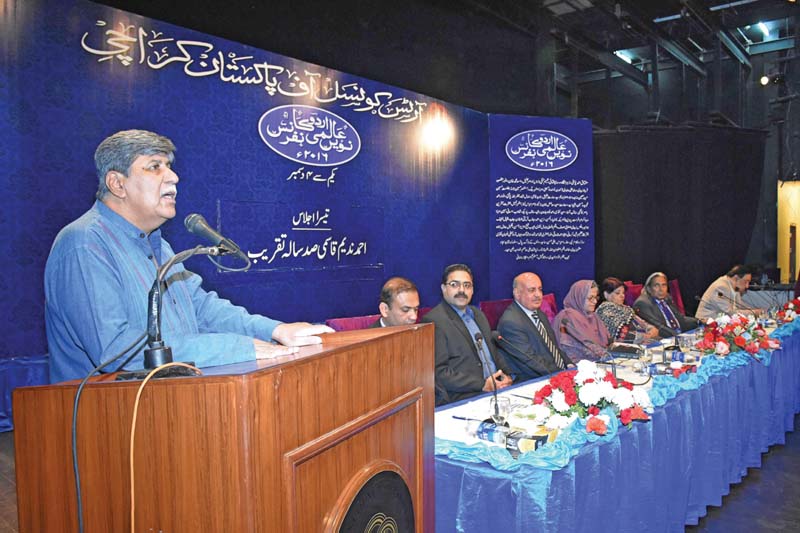 ---
KARACHI: Children used to write and send us their works to be published back in the day, reminisced Humera Athar, who headed the children's pages in a newspaper for more than seven years.

She was a panellist at the session, titled 'Urdu mein bachon ke adab ki soorat-e-haal [The state of Urdu literature for children]', on the fourth day of the ninth Aalmi Urdu Conference at the Arts Council of Pakistan, Karachi, on Sunday. The session was moderated by Ali Hasan Sajid.

Talking about why Urdu literature for children has been suffering lately, she translated a Chinese proverb into Urdu: Jis jungle mein shair khatam ho jatay hain, vahan bandar ki badshahat ho jati hai [Monkeys become kings of the jungle where lions go extinct].




"Children used to write and send us their works to publish in those days but today things have changed and newspapers do not accommodate such stories and do not encourage children to write," she said. She added that she still is pleased when children call her and tell her that they are writing stories because she motivated them to write for the children's section. She talked about how, around three years ago, a young boy called her from Multan and told her that he, along with some of his friends, have started their own local children's magazine after being inspired by her.

According to Sajid, there were around 350 children magazines after 1947. However, he added, all were closed unfortunately and we hardly have 30 magazines today, out of which only four have their permanent offices while all others are just one-man armies.

"We are talking about the shortage of writers and quality of content here but I feel there is no shortage of quality books," said Dr Najeeba Arif. Instead, she talked about the lack of interest on part of the children when it came to reading.

She reminisced about how, in her childhood, her father used to tell her stories of the lakarhara [lumberjack] and other fantasy stories. "Our children do not want to listen to stories of information and technology but those that give them morals and values," she said, adding that our generation has taken away storytelling from our own children. She lamented how no one reads stories to their children at bedtime nowadays.

Giving the example of the Harry Potter series, Dr Arif said that our writers should write fiction like that. She added that our children should read such stories that preach that no matter how small and weak you are, you will win the battle if you are true.

Another panellist, Rumana Husain, was of the view that the tradition of parents going to buy books for their children other than course books has vanished. "There are no special programmes for children on TV or radio," she added.

According to Raza Ali Abidi, 'bachon ka adab bolta hai [children's literature speaks]'. He added that children will remember the stories they have heard from their mother in their childhood. He paid homage to Ismail Merthi and Raza Mehdi Ali as writers for children.

Published in The Express Tribune, December 5th, 2016.