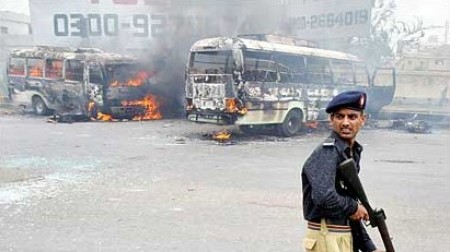 ---
KARACHI: When six-year-old Aasia, daughter of Nawaz Karnani who was killed on May 12, 2007, asks her mother how he was killed, she tells her he was shot down on his way to receive the Chief Justice of Pakistan. But when she asks who killed him, her mother has no answer.

Nawaz, 50, who hailed from Jacobabad, was an active worker of the Pakistan Awami Tehreek (PAT). He was gunned down near Pahlwan Goth in front of police and law enforcement agencies, who allegedly looked on as silent spectators. "When some people started indiscriminate firing on us, we shouted for help but the police did not come," said a PAT activist, adding that the two police officers who finally came to help just had sticks for weapons. "How could they have helped us?"

Around 50 people suffered a similar fate on May 12 when the Chief Justice of Pakistan (CJP) arrived in Karachi, but he was not allowed to enter the city by various elements. A massacre took place on the day when unidentified suspects started firing at political party workers, who were out on the streets to show their support or opposition to the CJP's arrival. Three years later, the investigation is still in limbo, as not even a single culprit has been arrested. "Sixty-six FIRs were registered by the police but not a single person was named in these FIRs. Moreover, none of these cases were passed on to the courts," said a senior police officer.

Following the incident, a blame game started and leaders of different political parties pointed fingers at one another. "We lost 20 workers and everyone knows who was involved in the incident," Shahi Syed, president of the Awami National Party's (ANP) Sindh chapter, told The Express Tribune. ANP has decided to mark May 12 as a day of mourning, he added. According to Taj Haider, general secretary of the Pakistan Peoples Party (PPP), Sindh, it is a sub judice matter and the court will decide.

Talking to The Express Tribune, he said that four workers of their party were killed and he was also there when the attacks took place. "I can only say that it was a tragic incident and we will offer Fateha every year for those who lost their lives," he said. Meanwhile, Haider Abbas Rizvi, deputy parliamentary leader of the MQM in the National Assembly, said that they had been demanding of the government to probe into the case. He said that many people pointed fingers at the MQM, but no one talks about who killed 14 of their workers.

Naeem Qureshi, general secretary of the Karachi Bar, said, "We will observe a strike and hold a rally. No lawyer will go to court today." However, ANP has decided to hold back its May 12 protest rally as security agencies have warned of possible terrorist attacks. Addressing a press conference at his residence on Tuesday, Shahi Syed said that they had completed the preparations for a big protest rally in front of the Karachi Press Club to remember the May 12 violence.

"We have information that terrorist attacks are planned for the day, in which Pakhtuns and others will be targeted to create riots in Karachi and Hyderabad," he said.

Published in the Express Tribune, May 12th, 2010.
COMMENTS (5)
Comments are moderated and generally will be posted if they are on-topic and not abusive.
For more information, please see our Comments FAQ