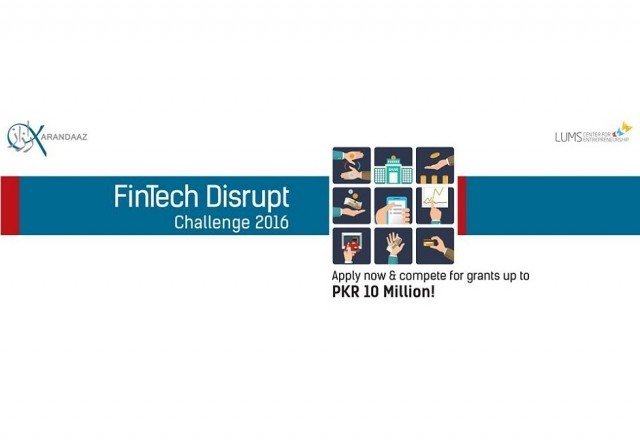 ---
LAHORE: As many as 28 start-ups pitched their ideas in the finance sector to win funding of Rs10 million for their projects during the final day of the Fintech Disrupt Challenge 2016 (FDC2016) on Sunday.

The competition was organised by Karandaaz Pakistan in collaboration with the LUMS Centre for Entrepreneurship (LCE).

A total of 63 applications were received in three weeks and 28 start-ups were shortlisted to go head-to-head on the final day in front of a six-judge panel of Romana Abdullah, Asad Azfar, Amaar Ikhlas, Yasser Bashir, Naeem Zamindar and Mohsin Termezy.

The teams were given one minute each to pitch their idea in front of the judges and the audience.

Their ideas came in areas like payments, financing, insurance, savings, investment and the real estate sectors. The participants merged longstanding financial transaction systems in the country with technology and pitched their ideas to win the seed money for their start-ups.




The event started with a welcome address by LCE Executive Director Khurram Zafar. "Access to seed capital is a major impediment to start-up growth in Pakistan," he said. "I hope that others follow suit and are able to financially support young, innovative start-ups so they can grow into large businesses of tomorrow spurring economic and jobs growth."

The event also hosted a talk by Pakistan Microfinance Network Board Chairman Nadeem Hussain titled 'Unbundling Commercial Banks'.

He highlighted the challenges and potential solutions for the finance sector in Pakistan while pointing out the potential of smartphone-linked changes to the industry in the coming years.

Another talk titled 'Design Mechanics for Setting up FinTech Operations in Pakistan' was delivered by FinJa Founder and CEO Qasif Shahid, who highlighted the potential of technology and the value created by such technologies.

The closing note was delivered by Karandaaz CEO Ali Sarfraz. "FinTech Disrupt Challenge 2016 presented a unique opportunity for fresh start-ups and those in their idea phase to be imaginative and creative about complex problems in the financial sector," he said. "Through this initiative, we have provided much-needed impetus to FinTechs, validation of their ideas, financial support and mentorship.

The winners are to be announced.

Published in The Express Tribune, November 28th, 2016.
COMMENTS
Comments are moderated and generally will be posted if they are on-topic and not abusive.
For more information, please see our Comments FAQ