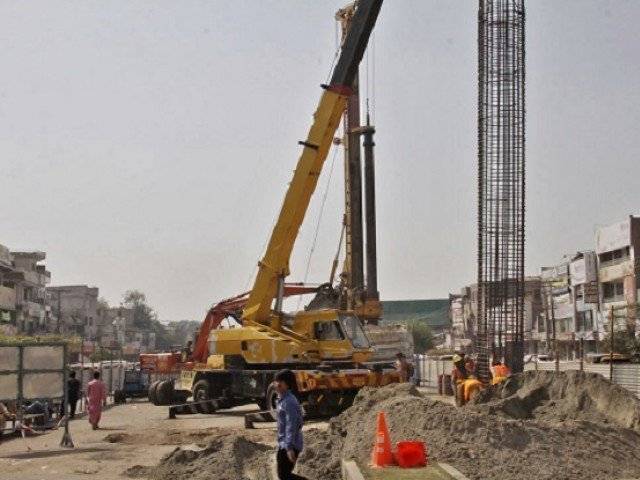 ---
LAHORE: The Punjab government has set a deadline of January 31 for the completion of civil works of all elevated stations of the Lahore Metro's Orange Line track between Dera Gujjaran and Chauburji.

The metro train package-1 contractor has been directed to finish work on the elevated stations and hand them over to the Chinese contractors, CR-NORINCO, for timely completion of electrical and mechanical (E&M) works.

Govt to grant duty-free access to Chinese firms working on Orange Line project

The decision came during the weekly meeting to review progress on the train project where Orange Line Steering Committee Chairman Khawaja Ahmad Hassaan said early completion of train stations was crucial for the project's timely completion.

The engineering consultant – National Engineering Services Pakistan (Nespak) – and the Chinese contractors informed the participants that they needed 135 days to complete the E&M works at the elevated stations.

Work would be initiated on multiple stations simultaneously in coordination with local civil contractors, for timely completion of the project. About 120 engineers, technicians and workers were busy on different sections of the project, the Chinese contractors said.

Nespak representative said about 55% civil works on the project had been completed overall.

Orange Line's package-1 from Dera Gujjaran to Chauburji is almost 70% complete while package-2 between Chauburji and Ali Town is stuck at 44%, owing to the cancellation of the original contract on sluggish performance and litigation. Package-3 and package-4 are also stuck at 54% owing to stay orders and other technical reasons.

Under construction: Orange Line project half way through

The package-1 contractor firm CEO, Shahid Saleem, said his company was working on all elevated stations simultaneously except those where courts had given stay orders. The firm would hand over three metro train stations at Islam Park, Salamatpura and Mahmood Buti to the Chinese contractors by December 15.

The remaining stations, he added, would be transferred to the Chinese for E&M works by January 31 in a phased manner.

Saleem said his company had already built 189 U-tubs of the total 670 on which train rails would be installed by the Chinese contractors.

The firm has also installed 146 U-tubs on elevated portions of the metro train on the Grand Trunk Road.

Punjab Mass-transit Authority (PMA) Operations General Manager Uzair Shah stressed the need for micro-planning for distribution of work among different contractors.

He asked Nespak to come up with a detailed plan in the next meeting to evaluate the performance of different parties working on the projects.

Meanwhile, Committee Chairman Hassaan directed the local contractors to fill the potholes along the project site, especially along the package-2 track, to avoid public inconvenience.

Published in The Express Tribune, November 24th, 2016.
COMMENTS
Comments are moderated and generally will be posted if they are on-topic and not abusive.
For more information, please see our Comments FAQ