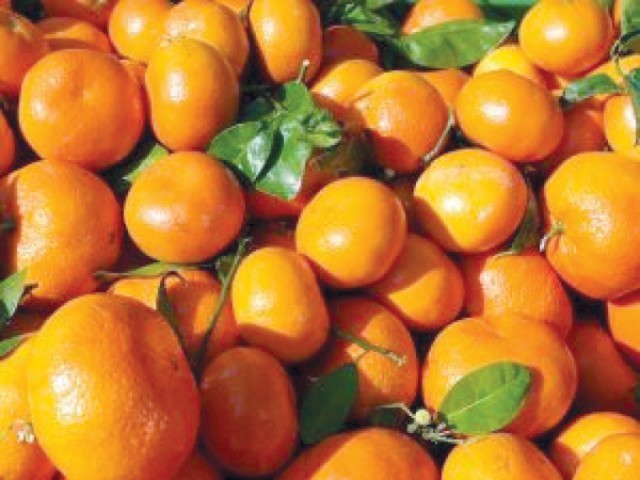 ---
KARACHI: The Federation of Pakistan Chambers of Commerce and Industry (FPCCI) has said that the demand for Pakistani oranges (kinnows) has dropped in overseas markets as India, Turkey and Egypt have started producing seedless kinnows.

"The demand for seedless kinnows remains high, especially in the West, but unfortunately Pakistan does not produce such varieties," said Ahmad Jawad, head of the FPCCI Standing Committee on Horticulture Exports.

'Pakistani fruits sought after world over'

Pakistani farmers must start seedless kinnow production, so that exporters could be able to penetrate European Union markets and "we are in a position to introduce new varieties, which will fetch good prices in the existing markets," a press release quoted Jawad as saying.

He said the worth of citrus varieties and value-added products in the international market stood at about $15 billion. By introducing other varieties, Pakistan could generate over $1 billion through exports every year.

As the Pakistan Agriculture Research Council (Parc) has already introduced two new varieties, he suggested that they should be planted in the production hubs on a priority basis.

In this regard, the government may activate the Pakistan Horticulture Development and Export Company (PHDEC) so that necessary collaboration may take place with Parc and the Punjab government, he added.

The export season for Pakistani kinnows is about to commence. There is lower production, but due to improved weather conditions, the quality is better than last year.

The export season will start around November 25, which is a week earlier than usual. This allows for more exports, particularly to the Russian market.

"The beginning of season a week earlier will make a big difference in logistics arrangements and the fruit will arrive right in time for holidays in these markets; we can also start earlier due to the weather that allows for better colour," said Jawad.

Pakistan aiming to fetch over $75 million with mango exports

Usually, the season lasts until April, but it is too early to predict now. There are several factors that influence the length of the season including weather condition and the demand in neighbouring countries such as China, Afghanistan and Central Asian states, especially on their local holidays like Chinese New Year and the Persian New Year.

The production of kinnows in Pakistan this season is estimated to be around 1.4 million tons.

Published in The Express Tribune, November 15th, 2016.

Like Business on Facebook, follow @TribuneBiz on Twitter to stay informed and join in the conversation.
COMMENTS (4)
Comments are moderated and generally will be posted if they are on-topic and not abusive.
For more information, please see our Comments FAQ