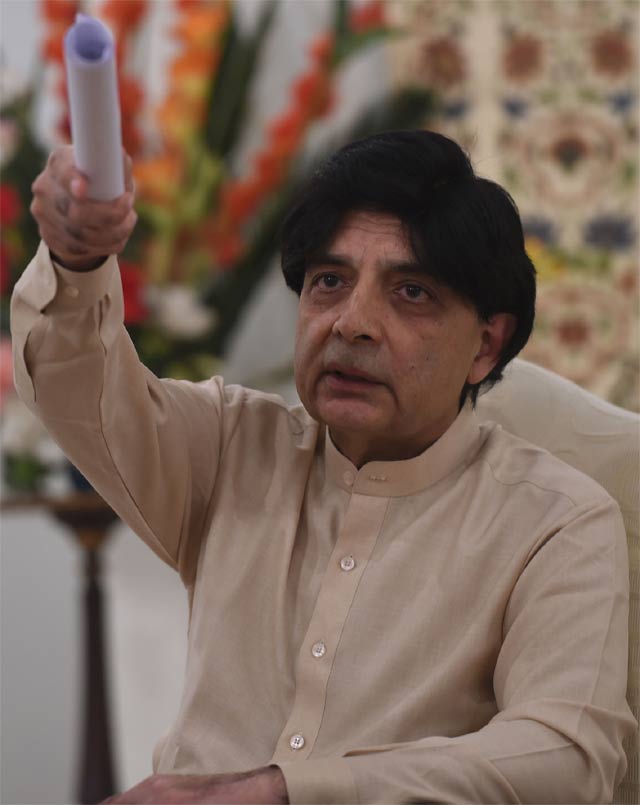 ---
ISLAMABAD: Interior Minister Chaudhry Nisar Ali Khan has said that the controversial story published by daily Dawn last month about a high-level national security meeting was not a 'leak' but a
concocted report.

Reported on October 6 by Cyril Almeida, the story claimed on the authority of unnamed sources that the civil leadership of the country had warned the military establishment against international isolation for not taking action against certain militant groups.

Nisar shares data with 'newsleak' probe committee

The report, rejected by the government multiple times, was dubbed by the army 'a breach of national security'. The government later announced the initiation of a probe into what was earlier called a 'leak' and announced a committee under a retired judge to probe the circumstances surrounding the publication of the news item.

"A national security leak would have been something discussed during the meeting. However, it was a false story with two thrusts," Nisar said on Friday, while talking to media at the National Database & Registration Authority (NADRA) headquarters.

"On the one hand it claimed there was an exchange of harsh words between the Punjab chief minister and the Inter-Services Intelligence (ISI) chief. Let alone an exchange of harsh words, there was not even a difference of opinion," Nisar claimed.

He said the second part of the story was about Pakistan's so-called isolation in the international community. He said that during the meeting the foreign secretary had never said Pakistan was being isolated; rather he had talked about realignment of Pakistan.

"The foreign secretary had maintained that Pakistan's foes are giving the impression that Pakistan is facing isolation while in fact it is not the matter," he said.

PM directs Nisar to inquire into Dawn's 'fabricated' story

"He had talked about the opportunities which Pakistan may avail as there are many countries who want to become part of the China-Pakistan Economic Corridor (CPEC)."

According to the interior minister, 34 high-level security meetings had taken place in the past three and a half years about non-state actors and he was present in each such meeting. He said Pakistan is very clear about the non-state actors and it has a unified policy against them.

"There is no difference of opinion on this issue between the civil and military leadership," he added.

He said Pakistan's enemies wanted to put blame on Pakistan for their failures. "Whenever there is an activity of freedom-fighters in Indian-held Kashmir, India puts blame on Pakistan," he added.

Nisar claimed that Prime Minister Nawaz Sharif did not even know the name of Justice (retd) Aamer Raza Khan prior to the proposal of his appointment as head of the committee probing the controversy surrounding the planted story.

"When we decided to appoint him as head of the committee, the PM didn't even know his name. Now they say that he has relations with the Sharif family," Nisar said.

He said during the first meeting of the committee, Justice Raza had expressed serious concern over his appointment. "Justice Raza is of the view that it took him 40 to 50 years to earn a good name and now people have started tarnishing his reputation after his appointment as probe panel chief.

Chaudhry Nisar to expose 'source' of leak

Nisar said initially Justice Raza refused to accept the assignment but later he accepted the job when he [Nisar] asked the former judge to do this job for the sake of national interest.

"The justice in question had refused to take oath under PCO of General Zia-ul-Haq in 1981," Nisar said. "First I conducted an inquiry and I am close to making public my findings. It has become a joke to put blame on the prime minister for all happenings," he added.

Nisar said on the request of probe committee he talked to the editor of daily Dawn on Friday and asked him to bring Cyril Almeida, the author of the controversial story, back to Pakistan.

"It's evident that Dawn's editor and the journalist would appear before the committee," he said. "Those people who want to use this matter for achieving their political goals should look for some other way for achieving their aims as this is a sensitive issue and must not be used for vested interests."

The minister hit out at Bilawal Bhutto Zardari and said Bilawal humiliated people of his father's age by calling them 'Chacha'.

"The PPP was a big party but now it is headed by a 27-28 years old 'la-ilm' [ignorant] kid who even does not know the language of this country," he added.

Responding to a query regarding removal of Sindh Governor Dr Ishratul Ibad from his post, he said this decision was taken by the premier a week ago.  "One has to end his inning someday," he said.

Published in The Express Tribune, November 12th, 2016.