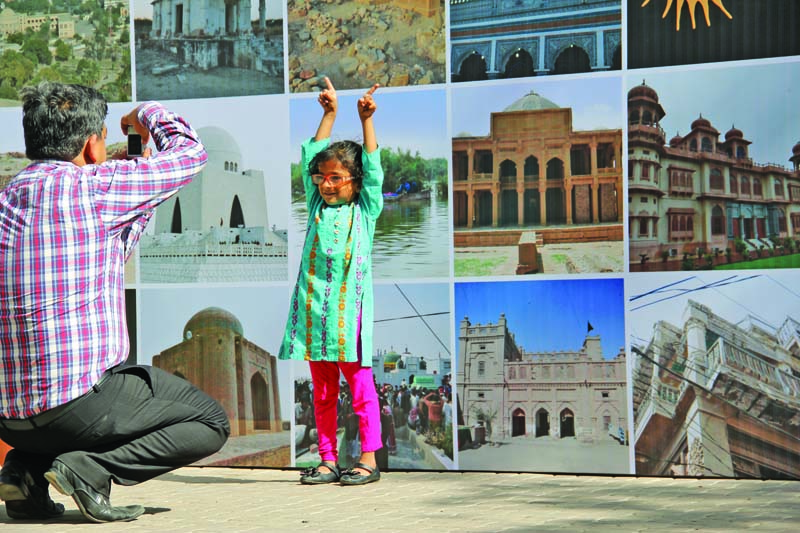 ---
KARACHI: The archaeological sites present in Karachi are contemporaries of Moen Jo Daro, said historians and research scholars at the 'Archaeological Importance of Karachi' session of the Sindh Literature Festival on Sunday.




"Near Karachi coast, many artifacts have been found that depict the same inscriptions and figures inscribed on Moen Jo Daro and Harappa relics," said research scholar Gul Hassan Kalmati, while addressing the audience. According to him, the remains of crocodiles found near Ibrahim Hyderi showed that before the advent of Islam, worshipping of crocodiles was practiced in the area. "A few people in Manghopir still consider [the] crocodile a sacred animal," he claimed, adding that there is a need for comprehensive research on our historical sites.




Kalmati expressed dismay over reshaping Karachi's archaeological status, especially after Partition. He said that many historical buildings, places, educational institutions and streets that were built by Hindus, Parsis, Jews and Christians were later on renamed after Muslims.

"Abraham Robin was a Jew, who being a member and chairperson of Karachi municipality, built many educational institutions," said Kalmati. He added that the Cheel Chowk in Lyari was named after him, which was renamed as Maulvi Usman Chowk and now it is called Cheel Chowk. The only school in Haji Mureed Goth in Khamosh Colony, which was built in 1920, still exists with the name of 'Abraham Sindh Government School' because the people thought the name is Muslim, he said. "The level of extremism can be gauged from the fact that the Taliban have threatened to destroy the tombs of [the] historical Chawkandi Graveyard of Karachi by calling it kufr," added Kalmati.




While delivering his presentation, Akhtar Baloch, who is a journalist and researcher, highlighted the contribution of non-Muslims in the development of Karachi and presented facts and figures of how the archaeological situation has changed. "Jigar Muradabadi was a famous Indian poet and we respect him but he did not belong to Sindh," he said. "The road in front of Islamia College was called Moti Lal Nehru Road but it has been changed after the name of Muradabadi." According to him, most of the Hindus, who played a key role in the development of Karachi, were forced to leave India, their property was occupied and their development contributions diminished.




"Only the names of 300 buildings, roads and places have been changed in Saddar," Baloch said, adding that before Partition, Harchand Rai Vishandas had been the Karachi mayor and his status was damaged after the attack on Babri Masjid in India. He also gave the example of Elphinstone Street in Saddar, which is now called Zaibunnisa Street. Baloch said that Gurumandir is famous in Karachi, but no one now knows where this mandir is located because it has been encroached upon.

Published in The Express Tribune, November 7th, 2016.
COMMENTS (1)
Comments are moderated and generally will be posted if they are on-topic and not abusive.
For more information, please see our Comments FAQ