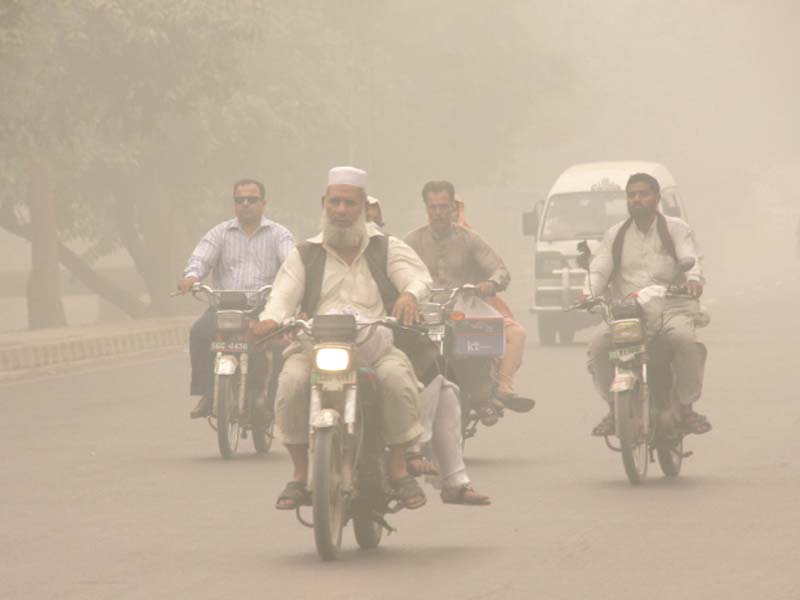 ---
ISLAMABAD/ LAHORE: The thick smog hanging in the air in Lahore and its adjoining districts has disrupted routine life, causing health problems and fatal road accidents as well as flight delays.

Heavy smoke particles interact with water vapour in the atmosphere to create smog, which is a combination of volatile organic compounds and harmful gases. Usually smog is formed in the upper atmosphere but conditions are ripe for heavy particulate matter to accumulate in the ground atmosphere with the onset of winter season.

Motorway pile-up leaves 19 dead

Prof Dr Sajid Rashid, principal of Punjab University's College of Earth and Environmental Sciences, says the prevailing condition is not a natural phenomenon.

"This (smog) is the result of persistent and unsustainable burning of carbon-based fuels in the region and the situation has been building up over the past few years," he said. "Numerous coal-fired power stations in Indian Punjab have come online that have also contributed to the smog."

Dr Sajid said the practice of setting fire to the fields to get rid of remaining stalks post-harvest might also be considered as one of the major trigger factors. "It is our social and moral responsibility to develop sustainable habits, and consider the consequences of our actions on not just the local level," he added.

Parents concerned

Although the Met Office said the smog had reduced in Lahore as compared to Wednesday, attendance at private and public schools remained thin as parents complained about low visibility, pollution and health issues of children and preferred to keep their children indoors.

Asma Nazeer, a private school teacher, said only a few children in her class showed up on Thursday and parents called the school to tell them that they would not be sending their children.

Imran Ahmed, a parent of two, said he did not send his children to school because of the pollution and low visibility. "I cannot take the chance as children are getting sick because of this weather," he added.

Flight delays

At least seven flights of Pakistan International Airlines were delayed and another two were diverted from the Allama Iqbal International Airport owing to low visibility in Lahore and its suburbs.

No respite till rain: Smog's here to stay

Two international air carriers, Turkish Air and Qatar Airways, diverted their Lahore-bound flights to Karachi due to the prevailing smog.

The Civil Aviation Authority, however, said the runway at Lahore airport was not closed as last year the authority installed the Instrument Landing System, which allowed flights to land at a visibility of as low as 50 metres. But only aircraft having the system and trained pilots can manage that.

What next?

The situation might improve after some rainfall, according to the Pakistan Meteorological Department (PMD). Weather experts have predicted light to moderate showers at isolated places in eastern Punjab during the next 24 hours.

PMD chief Dr Ghulam Rasul told The Express Tribune that lack of rainfall over the past few months was the prime reason behind having dense smog in November.

According to the Met Office, the visibility level in Lahore on Thursday had improved than a day earlier. At 10am on Wednesday, the visibility level was recorded at 500m while at the same time on Thursday it was 1,200m. By 7pm, the visibility level in Faisalabad was recorded at 900m; Joharabad 600m; Bahawalpur and Multan 2,000m; and in Jhang it was 1,000m.

Former director-general of the Environmental Protection Agency (DG) Asif Shuja Khan said the country's agencies either did not have the equipment for monitoring air quality or were non-operational.

"It is the need of the hour to declare an environmental emergency in the areas worst-hit by the smog," he added.

Home remedies

Given the density of smog, doctors were expecting an influx of patients but not many people turned up at hospitals.

"The situation is normal at all hospitals in Lahore," said Dr Farhan of Services Hospital. "There is no [state of emergency] at ENT wards."

However, Dr Owais Samee, an ENT specialist at Mayo Hospital, believed the people must be using home remedies for now as it was a common practice among masses.

India's smog-shrouded capital pulls cars off roads

"In our society, even when people are suffering from diabetes and heart diseases they visit quacks for treatment. Why would they come to hospital over irritation in the eyes or throat," he said, adding only asthma patients were coming to hospitals.

"I bet there would be many people on the streets, consuming the toxic air and feeling irritation in their eyes and soreness in their throats," Dr Owais said.

About precautionary measures, child specialist Dr Shehbaz Umer at Lady Willingdon Hospital said children, who have asthma running in the family, must be kept indoors during the season. "Schoolchildren must commute in covered vehicles and wear masks at all costs," he said, adding parents should ask their children not to rub their eyes in case of irritation.


Published in The Express Tribune, November 4th, 2016.
COMMENTS (1)
Comments are moderated and generally will be posted if they are on-topic and not abusive.
For more information, please see our Comments FAQ