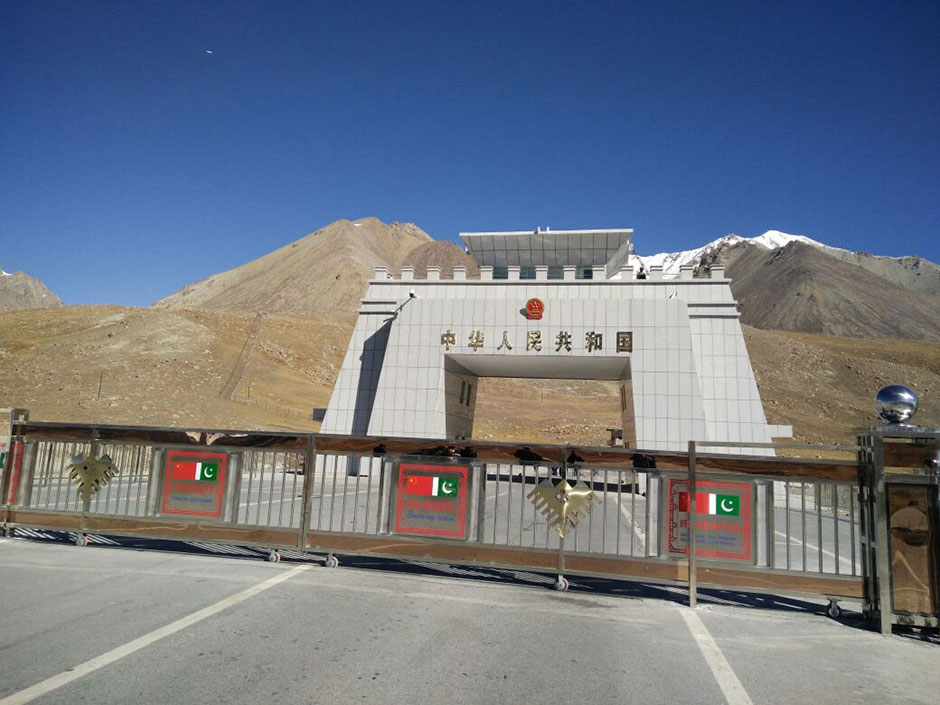 ---
Naveed Khan is a man on a mission — a mission to make Pakistan look great again. Khan, who now runs PakistanOnFoot, has completed what can only be termed an epic journey of three months from Khunjerab Pass to Karachi – on foot.

Funds raised from the walk are all set to go to a good cause – a project that would enable under privileged and remote communities to fend for themselves during times of natural disasters.




After a round of selfies with military officers at the Pakistan-China border, Khan mustered the courage and took the first step in his incredible 2,300 kilometre journey to Karachi on October 1, 2016.

We followed Khan's 2,300 kilometre three-month journey from Khunjerab Pass to Karachi coast.

Arrival in Karachi

With an immense amount of support and encouragement, Naveed Khan completed the journey on foot across Pakistan. "Someone just asked me how I feel now that I'm done. The only thing that comes to mind is, I feel reborn. I now have a completely new outlook to life," Khan shares. "The loneliness on the road forced me to think about things that had been bothering me for a while that I chose to ignore and now have closure on or answers to."




"I found peace, love and kindness in the most unexpected places. I met people and experienced a day or two of their life and it completely changed me," Khan said of his experience, adding that, "I saw places that made me stop and just stare, think and transported me back in time. While I love the family I was born to, I feel like I have a large family now spread all across Pakistan."




"It's been quite a journey, experiences that will stay with me for the rest of my life," Khan shared. "I have about 26 kilometres to go now and am looking forward to the end, which I'm sure will be the beginning of another adventure."

Walking through historic Lahore

After walking through the scenic routes of the northern parts of the country, Naveed arrives in Lahore. From walking through the city streets to exploring the grand architecture; he captures the city's magnificent mosques and culture.




Halfway through the journey

Khan is halfway through the mammoth journey and captures this spectacular sunset at Khanpur Lake. Calm waters and a stunning sunset gives Khan a moment of serenity.




Babusar Pass 

Surrounded by nature and spectacular landscapes, Khan witnesses a light show, one of many, between Babusar Pass and Lulusar Lake.




Arrival in Naran

As the journey continues, Khan takes a walk through the Naran market. "This is after the season had ended and probably the last time I walk through a calm marketplace," he shared. "The next ones won't be so calm and free of pollution. But I'm hoping to meet some good people and have interesting conversations."




Day 17

After a seven hour hike, Khan's fingers were inevitably left numb and freezing while it became difficult to breathe. This stunning shot was captured following the 1,900m trek.




Two weeks later

After two weeks into the walk, Khan reached the spectacular Nanga Parbat viewpoint where he snapped a selfie with the signboard. The cloudy weather didn't enable him to capture the perfect picture of the mountain.




Day 7

A group photo is taken with the students and staff of the Passu School. The school will be part of the Community Emergency Response Team (CERT) project which Khan's cross-country walk aims to raise money for.




Day 6

"I've never been the kind of person to wake up late and waste the best part of the day. Lately however I have been taking advantage of whatever chance I get to stay in and catch up on chores that aren't on a trail somewhere," Khan shares about his day, almost a week into the journey.



With a challenging journey ahead, Khan ensured he kept something to keep himself entertained throughout. "I started an entire hour and a half late today. Reason is simple and extremely valid: I was updating my playlist!!" Nusrat Fateh Ali Khan, Bob Dylan, Pearl Jam, Led Zeppelin, Jimi Hendrix and The Doors are all part of his playlist to keep him company for the next 11 weeks.


When the going gets tough

"I took my first break later than I normally do, at the 50 per cent mark (according to my TomTom watch). I found a flat piece of land with a lot of sunshine next to the highway and marked it 'home'."

"I realised I had been moving very fast to be able to do 12.5 kilometres in less than three hours and my breathing was completely nuts by then, I took long deep breaths and managed to start breathing normally again," Khan said of the tiresome journey. "For some reason I didn't feel hungry or thirsty, which in my opinion could be very bad. I force-fed myself snacks I had bought the day before and drank almost one whole litre of water."

Day 5


As Khan is now a week into his journey, the challenge is getting tougher. "There is something about being totally alone in the mountains. Storms of thoughts enter your head. As scared as I was being so alone, not because of anything physical but because by nature I am a social person. No, I was scared of being alone with myself," Khan wrote in his blog post.




"I didn't want to face the thoughts I knew would enter but at the same time, I wanted the interior journey. It's easy to ignore important things that are outside your comfort zone when you have distractions. I want to cross these off for once and this is the best way to do it. This journey of 2,300kms, of hundreds of experiences, of noticing the little details I'd miss otherwise."




With hardly any mobile network, Khan is getting used to the life in the mountains of Gilgit-Baltistan. "Part of the reason I love being here so much is the disconnect between me and the rest of the world," he shares.

"It hurts relationships, business, tasks that need immediate action from my end but I have to admit, there is this guilty pleasure in knowing that nothing can come between you and what you have right now – nothing and everything."

Day 1

"We finally made it to the Khunjerab Pakistan border, 45 minutes later than expected," Khan told The Express Tribune on the first day of the mammoth journey.




This Pakistani plans to walk from Khunjerab pass to Karachi in 90 days

With fingers almost frozen numb, breaking the campsite down was a tiring task for Khan. "I think the nervousness of this three-month long trek across Pakistan has finally kicked in," he said.




"Just parts of my body were warm but the rest, very awkward parts of my body were frozen. My elbows, the top of my bald head and the lower parts of my back."
COMMENTS (1)
Comments are moderated and generally will be posted if they are on-topic and not abusive.
For more information, please see our Comments FAQ