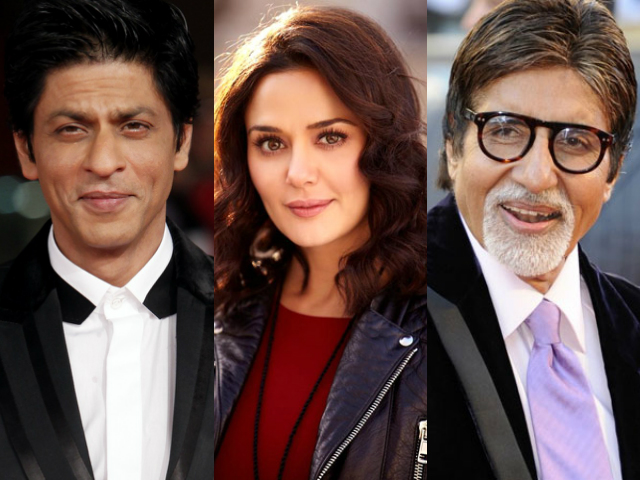 ---
A belligerent Bollywood has lapped up Indian claims of carrying out 'surgical strikes' across the Line of Control -- assertions categorically rejected by Pakistan.

Industry heavyweights Amitabh Bachchan and Shah Rukh Khan were among the scores of Indians who jumped on the bandwagon. Read what they had to say here.

Saif Ali Khan breaks silence on MNS threat to Pakistani actors


T 2394 - "Don't mess with the Indian Army" !!

— Amitabh Bachchan (@SrBachchan) September 29, 2016
Thnx Indian army for the action against terrorism.V should all pray for safety & well being of our Indian soldiers. pic.twitter.com/7gltoNP937

— Shah Rukh Khan (@iamsrk) September 29, 2016


Akshay Kumar, Farhan Akhtar, Ajay Devgn, Sidharth Malhotra, Varun Dhawan, Sajid Khan, Raveena Tandon, Arjun Rampal, Riteish Dehmukh, Preity Zinta and Sunny Deol also fell for the Indian Army assertions.


Proud of the Indian Army for successfully carrying out the anti-terrorism operation.Glad the Government took this bold step,was about time!

— Akshay Kumar (@akshaykumar) September 29, 2016
In full support of the Indian Army and its effort to root out terrorism. #respect https://t.co/nzQeZXCi4p

— Farhan Akhtar (@FarOutAkhtar) September 29, 2016
Hats off to the Indian army for proving that every Indian life matters.#SaluteToTheArmy

— Ajay Devgn (@ajaydevgn) September 30, 2016
Salute to the Indian army,we once again stand united for war against terror #ProudIndian

— Sidharth Malhotra (@SidMalhotra) September 29, 2016
Proud of our army they are the pride of our nation #IndianArmy https://t.co/4oBCOnEktb

— Varun Dhawan (@Varun_dvn) September 29, 2016
I SALUTE THE INDIAN ARMY...I SALUTE OUR BRAVEHEART SOLDIERS..BHARAT MATA KI JAI.. #SurgicalStrike

— Sajid Khan (@SimplySajidK) September 29, 2016
Thank you @adgpi Indian Army,for the much needed strike on terror camps in POK. You have made the world a lil safer .. JAI HIND 🇮🇳#salute

— Raveena Tandon (@TandonRaveena) September 29, 2016
Super proud that terrorism is spoken to in the language they understand.Let's unite borders by uniting against terrorism. #IndianArmy ki Jai

— arjun rampal (@rampalarjun) September 29, 2016
Proud of our Indian Army & many Congratulations to our Indian Government for their effective steps against terrorism. #IndiaFirst #JaiHind

— Riteish Deshmukh (@Riteishd) September 29, 2016
I called a dear friend in the Army & Congratulated him for this strong reply to #Terrorism. This is what he said... https://t.co/UuosoMnWTr

— Preity G Zinta (@realpreityzinta) September 30, 2016
Salute the Indian Army, for protecting our national security with a strong reply to the terrorists. #SurgicalStrikes #IndianArmy

— Sunny Deol (@iamsunnydeol) September 29, 2016
Terrorism of any kind should be surgically removed and that's why it's important to do #SurgicalStrikes - #IndianArmy bravehearts !

— rahul dholakia (@rahuldholakia) September 29, 2016


This Indian guy tells us why MNS wants Fawad Khan banned

Seems Bollywood is in no mood to cross check facts. "India's claims of surgical strikes are baseless," DG ISPR Asim Bajwa said in a recent statement. "There has been no surgical strike by India, instead there had been cross border fire initiated and conducted by India," it reads. The military's media wing added, "As per rules of engagement same was strongly and befittingly responded by Pakistani troops."

Pakistan Army rubbishes India's claim of 'surgical strikes' along LoC

"This quest by Indian establishment to create media hype by re-branding cross-border fire as surgical strike is fabrication of truth," the statement said. "Pakistan has made it clear that if there is a surgical strike on Pakistani soil, same will be strongly responded," it went on to warn.

Have something to add to the story? Share it in the comments below.