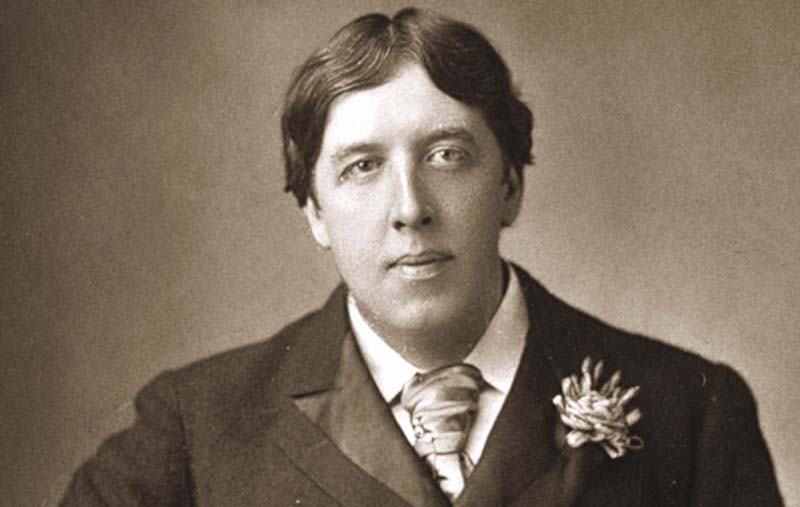 ---
PARIS: It has taken over a century but France is finally paying a fulsome tribute to Oscar Wilde, the writer who died penniless in a fleapit Parisian hotel saying, "My wallpaper and I are fighting a duel to the death. One of us has got to go."

The first major exhibition in the French capital, on the Irish wit and playwright, opened on Wednesday. Its "hugely touching" final rooms chart Wilde's tragic end in the city, exiled and disgraced, aged only 46. The writer fled to Paris in 1897 after being hounded out of England, having served two years in jail on account of his love for Lord Alfred Douglas.

Wilde's grandson Merlin Holland, who has helped put the show together, said it is "still very hard to read" some of his letters that are written on blue prison paper "where Oscar is on his knees, begging for clemency." According to Holland, seeing him have to plead is quite hard to take.

The show at the Petit Palais also includes the misspelt calling card left by Douglas' father, the Marquess of Queensberry, which led to Wilde's fall. As it turned out, Wilde sued Queensberry for criminal libel. "A man cannot be too careful in the choice of his enemies," Wilde once wrote.

Queensberry was a vicious adversary. The fiery aristocrat hired a team of private detectives to trawl London for evidence of Wilde's "depravity". He also enlisted the writer's Dublin university contemporary Edward Carson as a barrister to bait him in court. In fact, the original court transcript of the trial shows the very moment Wilde's world collapsed.

Wilde had been at the height of his powers with his masterpiece The Importance of Being Earnest playing to packed houses in London but his downfall was instant and terrible. "It is hard to overestimate how much he was razed from society," Holland explained. "He became an untouchable overnight."

As The Picture of Dorian Gray author left court, a warrant was issued for his arrest on charges of gross indecency. He was quickly tried and the Paris show, which runs till January 15, also has the handbill advertising the sale of his possessions, including those that were seized by the court. "They left him with nothing," revealed Holland.

Wilde wrote The Ballad of Reading Gaol under the pseudonym of his prisoner number C33, after fleeing to France. "It was only in the fifth edition that the publishers dared put his name on and even then, it was only on the inside, in brackets," Holland shared.

The exhibition includes photos of the bedroom in the Hotel d'Alsace on Paris' Left Bank, where Wilde spent his final days on credit from its kindly owner. His tomb is still one of the most visited spots in the Pere Lachaise cemetery.

But the greater part of the exhibition is dedicated to Wilde cutting a swathe through London and Paris society and his barnstorming tour of the US. It brings out his passion for art, which according to Holland, Wilde believed was the "civilising influence in the world." Also included are several Pre-Raphaelite paintings Wilde wrote about in 1877 and 1879, as well as work by his friend Aubrey Beardsley, who famously illustrated Salome, the play Wilde wrote in French.

Curator Dominique Morel said a major Wilde show was long overdue in France. According to him, the exhibit "contains many unseen and extremely hard to acquire materials," thanks to the help of Turkish philanthropist and expert Omer Koc, who loaned some of his "astonishing collection" of Wilde's letters and papers.

Published in The Express Tribune, September 30th, 2016.

Like Life & Style on Facebook, follow @ETLifeandStyle on Twitter for the latest in fashion, gossip and entertainment.
COMMENTS
Comments are moderated and generally will be posted if they are on-topic and not abusive.
For more information, please see our Comments FAQ