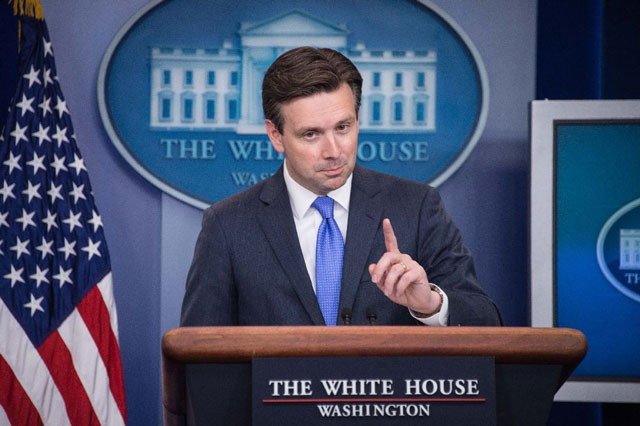 ---
The United States has urged Pakistan and India to resolve all disputed issues, including Kashmir, through diplomacy and not violence.

"We have long urged India and Pakistan to find ways to resolve their differences not through violence but through diplomacy," White House spokesperson, Josh Earnest, said on Friday. Earnest's comments came in response to a question on simmering of relations between the two south Asian nuclear-armed neighbours in the wake of a separatist attack on an Indian army camp in occupied Kashmir.

The White House spokesperson lauded the significant advances made by the arch-rivals in the pursuit of a diplomatic resolution of the longstanding disputes and hoped that Islamabad and New Delhi will be able to bring peace and stability in the region.

India backs off after frenzied war rhetoric

"Over the years, they've made some important progress in that pursuit, and we're hopeful that they'll be able to continue to make the kind of progress that will bring greater stability to what is a rather volatile region of the world," Earnest said. Although the spokesperson refrained from specifically condemning the Uri attack, he, however, said the US strongly condemns acts of terrorism around the world.

Responding to another question on whether the US government has made any contact with the Pakistani or Indian government regarding the recent tensions between the two countries, Earnest said he was not aware of any such incident. "I'm not aware of any specific conversations at the White House level… for any contacts with either the Indian or Pakistani government, I'd refer you to the State Department," the spokesperson said.

The remarks come just two days after Prime Minister Nawaz Sharif demanded an independent inquiry and a United Nations fact-finding mission to investigate extra-judicial killings and brutalities perpetrated by security forces in Indian occupied Kashmir (IOK) to punish those found guilty. Around 100 people have been killed and thousands injured in violent protests triggered by the killing of a young popular freedom fighter Burhan Wani by Indian security forces in the disputed Himalayan valley on July 8.

Apparently referring to the spike of tensions between Pakistan and India following a recent attack on Indian troops in the Uri sector of IOK, Premier Sharif warned the international community against ignoring the dangers of Indo-Pakistan tensions. He said Pakistan will soon open consultations with the members of 15-nation council to explore modalities for implementation of the Security Council resolutions on Kashmir.
COMMENTS (2)
Comments are moderated and generally will be posted if they are on-topic and not abusive.
For more information, please see our Comments FAQ