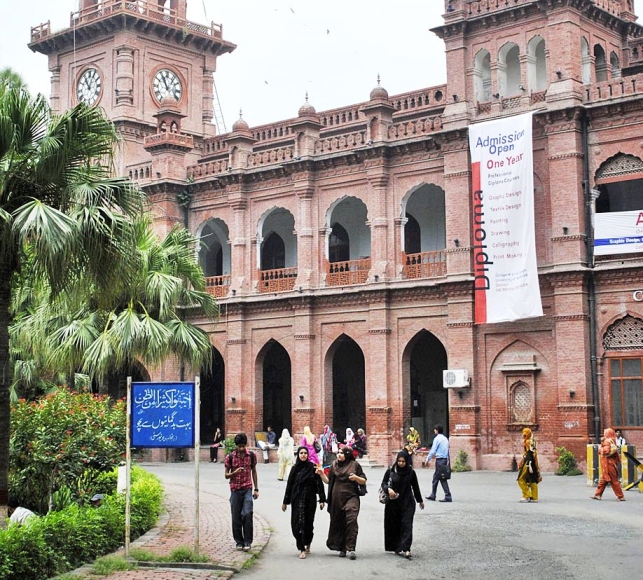 ---
LAHORE: Students are thronging universities. It's admission season in Punjab. Universities across the province have announced admissions in bachelor's and master's programmes for the 2016 Fall semester in different disciplines.

The admission process will last till the end of the month with different universities having different deadlines for the process.

At Punjab University (PU), the largest public university in Pakistan, admissions are open for BSc (Hons) BS, BEd, BBIT, BFA, BCom, BBA, MA, Med, MSc, TET, MPA, MBA, MFA, MCom (3.5 year) MIM, MIOM and MBSM Morning & Self-Supporting programmes for the academic year 2016-17.

The last date for submission of admission forms at the university is September 28. Candidates can get the forms from respective departments and are advised to submit them before the end of the deadline.

Students have already been applying to different departments at the university.

Mehreen Owais, a candidate seeking admission in the Masters programme at the PU English Department, said she had bought admission forms for several other programmes in different departments.

"Getting admission to PU is difficult. So I am also applying to various other departments," she said while filling the admission form outside the English Department building.

Another candidate Salman Ali said he was hopeful to get admission to the varsity's sociology department. He said if he failed to get admission at the PU, he would seek admission at a private university but will study to become a sociologist.

As per the announcement of the University of Engineering and Technology (UET) Lahore, the largest engineering university of the province, applicants have been advised to apply for undergraduate admissions till September 26.

The UET has started admissions only in the undergraduate programmes. Admissions in engineering and technology like electrical, computer, mechanical, industrial and manufacturing, mechatronics and control, civil, architectural, transportation, environmental, chemical, polymer, metallurgical and materials, petroleum and gas, mining, geological, architecture, city and regional planning, product and industrial design, biomedical engineering and textile engineering technology have been announced.

UET spokesperson Adnan Khaliq Bhatti told The Express Tribune that 30 programmes were on offer at the varsity's main campus, Rachna College of Engineering & Technology Gujranwala, Faisalabad Campus, Kala Shah Kaku Campus and Narowal Campus.

He said about 2,900 seats were available at the university out of which 2,600 were on open merit, while 310 were reserved seats.

Every year, more than 7,000 applicants apply to UET's four campuses. The main campus is offering admissions in 19 programmes, Kala Shah Kaku Campus offers eight while Faisalabad, Gujranwala and Narowal campuses offer admissions for four disciplines each.

Admission in master's programmes will start at the university in October.

In the recently announced Intermediate results, a total of 60.87% students passed the exam in the Board of Intermediate and Secondary Education, Lahore. A total of 90,827 candidates were declared successful from the Lahore board, who now are seeking admissions in universities across the city.

Published in The Express Tribune, September 22nd, 2016.