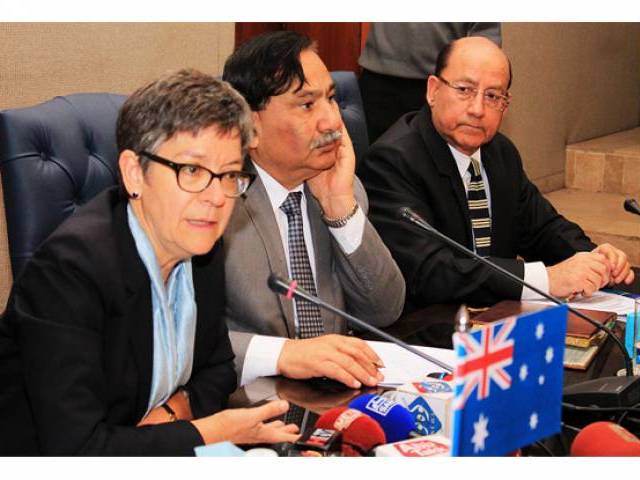 ---
A day after MQM leader Khawaja Izharul Hassan was arrested and released following a controversial police raid, Australian High Commissioner to Pakistan, Margaret Adamson, called on senior leader Farooq Sattar in Karachi.

Adamson visited MQM's office which is temporarily located in the PIB Colony neighbourhood.

During the meeting which was also attended by other members of Rabita Committee, Adamson inquired after Sattar's health and exchanged views on matters of mutual interest.

Sattar and other party leaders were injured as their car crashed on the highway on September 14 when they were on their way back from a meeting of senior ranks.

MQM leader Khawaja Izharul Hasan released hours after arrest in Karachi

The meeting comes a day after the party's prominent leader Khawaja Izharul Hasan was arrested in a raid conducted at his Karachi residence for allegedly providing refuge to those responsible for the May 12 carnage.

The SSP conducting the raid, Rao Anwar was suspended while Hasan was freed after concerns were raised from several quarters on the parliamentarian's arrest without the consent of the provincial assembly's Speaker.

Farooq Sattar discharged from hospital

At least 40 people were killed on May 12, 2007 when members of various political rivals engaged in an ensuing gunfight and arson after the MQM reportedly attempted to bar the then Chief Justice Iftikhar Muhammad Chaudhry from entering into the city.

Earlier on Saturday, State Department spokesperson John Kirby said the United States was aware of the recent arrests of the MQM leaders and is monitoring the events closely.