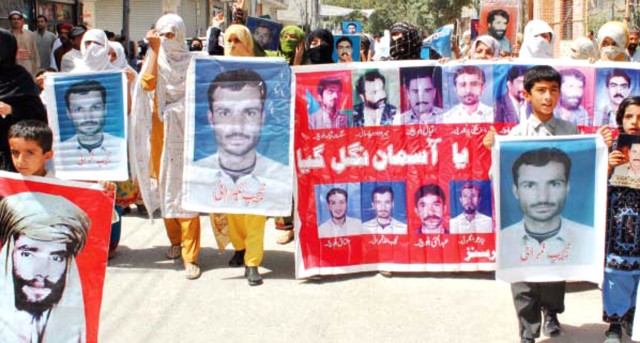 ---
KARACHI: 2,582 children were reported missing and cases were registered in over 100 police stations of Karachi last year.

Parents of these children say that apart from the trauma of losing their loved ones, equally painful is the lack of interest shown by the police in recovering them. The police say that since children going missing is not a congnisable offence on its own, it is difficult to follow up in the manner that is expected of them by the parents. The disappearance of 11- year old Mohammad Sameer, a resident of Liaquatabad, who went missing in October 2009 is one such example.

To date, his father has been running from pillar to post trying to figure out who the right police official is to handle his son's case. "My wife and I have been running after various police officers. I still don't understand what is the right procedure to follow. There is simply no guideline for parents and the police seem disinterested," complains Mohammad Naseem, a tailor by profession. It was in Ramazan last year when Sameer went missing from outside his house.

After searching for him without any success his parents approached the police to register an FIR, but were denied this. What the police, however, did do was register their complaint in the daily roznamcha and asked the couple to return if they received a call for ransom or any other hint about Sameer. "But shouldn't this be their job?! If I do get some information, why should I contact the police? Wouldn't I go to recover my child myself?" asks Naseem.

These are some questions the police have no answers to. Since the issue of missing children is not a cognisable offence, they are reluctant to register an FIR. "When a child goes missing, it does not convey the occurrence of a crime unless the parents are sure he has been kidnapped," former DIG Karachi Akbar Arain explains. "Experience has shown that in many cases children do not go missing, but willingly leave their house. Such issues may not warrant the registration of an FIR immediately."

But parents, who are undergoing severe mental trauma at the time, cannot be blamed for panicking. The insensitive attitude of the police only adds to their misery. The absence of trained personnel and a separate investigation unit to deal with the issue adds to the apathy of the police, believes Sharfuddin Memon, former chief of the Citizens Police Liaison Committee (CPLC) chief. "There is simply no mechanism or initiative from the government to ensure the timely recovery of a missing child," he comments. "As a result, parents are forced to handle cases on their own and most of the time they end up mishandling their case because they don't have professional help."

Naseem told The Express Tribune that after repeatedly being turned down by the police, he and his wife sought the help of various clairvoyants in the city to recover their child as well, but in vain. "At one point, a peer told us that he could 'see' Sameer was confined somewhere in Gaddani. We immediately told the police and asked them to accompany us. But instead of helping us they were more interested in making us pay for fuel, food and chai…we all returned empty-handed." Naseem added that he has so far spent over Rs100,000 and is still unsure about the role of the police and how they handle such cases.

No official data

"Our research has revealed that Pakistan doesn't have any national or provincial level research or data on missing children, let alone a proper guideline for investigating such cases," says Muhammad Ali, President Roshni Helpline – an NGO working on the issue of missing children in Karachi. Although certain initiatives have been taken by local and national NGOs, their data is based on newspaper reports, which activists feel is not enough.

The Madadgaar Helpline has no independent data and relies on reports from various newspapers for its database. According to the data they compiled in 2009, 1,123 children went missing from the entire country, which greatly contradicts the independent research conducted by Roshni Helpline only for Karachi. "We visited 100 police stations across the city over a period of several months which revealed that 2,582 complaints were registered in 2009. I am sure the national figures would be even higher."

Ali says it is not always true that children who go missing are the ones who want to run away. Sometimes, they are children who walk beyond their residential area to play and simply cannot find their way back home, he says. These wandering children are then an easy prey for the begging or child trafficking mafia if no timely measure is taken to recover them.

In low-income neighbourhoods, from where a majority of these cases are reported, parents initially utilise the services of their local mosque for announcements or rely on distribution of pamphlets and advertisements in local newspapers. After waiting a few days, they approach the police who only record some preliminary information from parents.

Once a complaint about the missing child has been registered, the police of the concerned jurisdiction transmit this information to the main police stations of all the three zones after which they feel they are absolved of their responsibility, says Ali. However, in the case of kidnapping for ransom the police are more active because it is a cognisable offence. When contacted, the Capital City Police Officer (CCPO) Karachi Waseem Ahmed acknowledged that the police do not pay attention to missing children as they should.

"The neglect is due our pre-occupation with other complex issues and challenges concerning terrorists and other heinous crimes in the city," he told The Express Tribune. He further cited the inadequate strength of the police – that currently stands at 32,000 for a city of 18 million – and their limited resources as reasons for not being able to focus on the issue. Sharfuddin Memon adds that proper communication skills are what the police lack as well. "Families undergo trauma when their child is lost. Harassment by the police does not help which is why people run away from police stations," he says.

Helpline helpless?

Sindh Minister for Social Welfare Nargis N D Khan, who also heads the Provincial Commission for Child Welfare and Development, told The Express Tribune that the government has established a child helpline to assist parents, but admits that there is not much they have done to spread awareness. In view of the present situation, she further suggested that the media can play an important role in increasing awareness about missing children. But Ali disagrees.

"The government needs to own this issue and take some responsibility itself. To tackle the issue effectively, it should allow the police to register FIRs and take up investigation," he suggests.
COMMENTS
Comments are moderated and generally will be posted if they are on-topic and not abusive.
For more information, please see our Comments FAQ