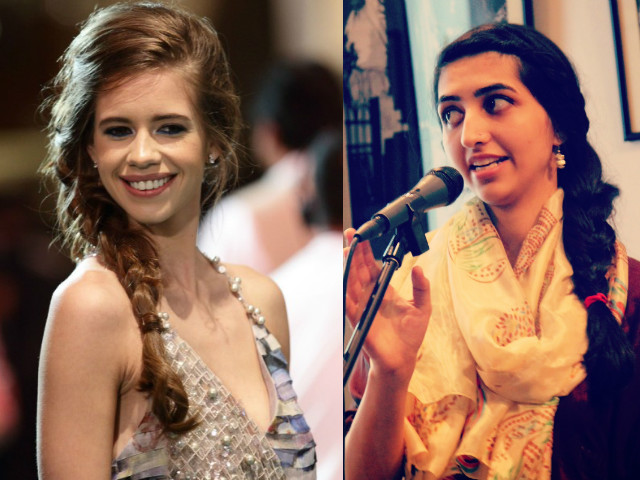 ---
KARACHI: Unfettered by barriers of nationality, several Pakistani actors and singers have in the past traveled to perform in India. However, this time it's a Pakistani poet who will be crossing the border to participate in a new kind of mushaira gaining popularity in our part of the world.

Spoken Stage founder Mariam Paracha is all geared up to spread the magic of her recitals at the National Youth Poetry Slam (NYPS), in Bangalore, alongside Indian actor-poet Kalki Koechlin and American poet Sarah Kay.

The perfervid writer will be performing at the poetry slam, building bridges between the two countries. The competition will take place on September 17 and September 18. Organised by Airplane Poetry Movement, NYPS is a spoken word poetry competition aimed to celebrate the burgeoning culture of slam poetry in India. The event will also feature ace comedian Biswa Kalyan Rath.

Kalki Koechlin all set to work in Pakistan

Talking to The Express Tribune, Paracha said, "I love the idea that there are no boundaries in art. I've noticed how we all live separate lives and I've always just loved hearing different people's stories and learning more about the people and places around us."

The poet added that she will be representing Spoken Stage during the two-day final national slam. "All my writings are based on real life experiences, travels, relationships, empowerment and self-reflection," she continued.

It will definitely be a treat for all the poetry lovers to watch the three poets share the stage with 75 other performers. Koechlin is a prominent Bollywood star who has appeared in a number of acclaimed movies, but it is a lesser known fact that she is also an accomplished writer. She has penned a number of plays and poems, some of which have received a lot of praise in India.

Performance art: The poet and the stage

Airplane Poetry Movement in India and Spoken Stage in Pakistan evolved at almost the same time. The two groups shared videos and pictures of their work, taking social media by storm. Subsequently, the founders of these organisations "ran into each other" and built a relationship around their shared interest regarding storytelling and writing.

Paracha disclosed that she's planning to put together a show with a similar concept in Pakistan, very soon. "We will definitely work on something in the coming months in collaboration with some great people from Lahore and Islamabad," she revealed.

Bollywood actor Kalki Koechlin spotted in Pakistan

Inspired by William Blake, Paracha combines storytelling, performance and visuals, taking spoken word to the next level.

A graduate of Indus Valley School of Art and Architecture, she also developed her thesis around oral word poetry. She remains optimistic about the future of the trade in Pakistan. "Don't write to impress but instead, write from the heart. If you are true to yourself, your writing will surely be respected," she said.

Have something to add to the story? Share it in the comments below.
COMMENTS (1)
Comments are moderated and generally will be posted if they are on-topic and not abusive.
For more information, please see our Comments FAQ