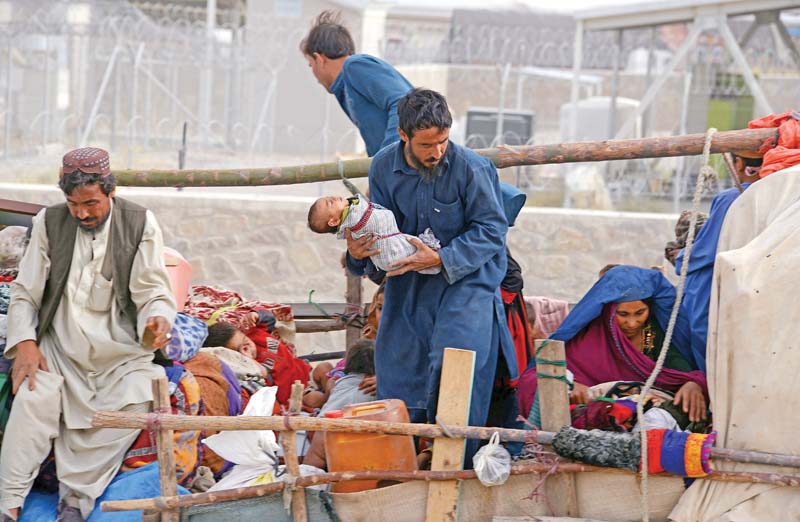 ---
ISLAMABAD: Security operations against undocumented Afghans, higher cash grant for voluntary repatriation has seen over 90,000 Afghans refugees return to their country so far this year.

However, the United Nation High Commissioner for Refugees (UNHCR) has reminded authorities that no refugee should feel "forced to return".

"The increase in the number of security operations against undocumented foreigners, including undocumented Afghans, has also impacted refugees' decision-making, despite assurances from authorities that Proof of Registration card holders will not be subjected to arrest or deportation," UNHCR-Pakistan spokesperson Dunya Khan told The Express Tribune.

She added that there are challenges and that the refugees should take their own decisions.

"Because of the border security environment and action against undocumented foreigners, Afghan refugees face pressure," she said before clarifying that the action is not directly against refugees.

Pakistan hosts around 3 million Afghan refugees. Of these, 1.6 million are registered while the remaining are not, and could face expulsion. In June, Prime Minister Nawaz Sharif had extended the Afghan refugee registration deadline by six months, allowing Afghan refugees to stay in the country till December 31, 2016.

Speaking to The Express Tribune, Dunya said that over 91,300 refugees have returned to Afghanistan under the UN-facilitated voluntary repatriation programme between January 1, 2016 and September 2, 2016. This was up from 58,211 last year.

To further facilitate the repatriation process, Dunya said the UNHCR will be opening a new repatriation centre in Azakhel area of Peshawar shortly after Eidul Azha to support those Afghans who have decided to return home.

However, when asked why there had been a sudden rise in refugees returning in recent months when only 6,000 refugees had chosen to do so till June, the UN official explained that it coincides with tighter border management controls at the Torkham crossing between Pakistan and Afghanistan.

Pakistani officials put in place a new mechanism at the Torkham border from June to stop militants from taking advantage of lax border controls to cross between the two countries without any check. Afghan government opposed the move as "unilateral" move.

Furthermore, Dunya explained that the surge may have to do with a hike in the cash grant part of UNHCR's voluntary repatriation programme. The grant was recently doubled from $200 to $400 per individual at the end of June.

Though, she admitted that uncertainty over their future in Pakistan beyond December 2016 is also a factor in their decision to return to Afghanistan. "No Afghan refugee should feel forced to return."

In addition to efforts in Pakistan, Kabul – after being pressed by Islamabad to do more – has for the first time since 2002 started a refugee settlement programme called "Khpal Watan, Gul Watan" (Home sweet home) in July 2016 to encourage Afghan refugees to return to Afghanistan.

Published in The Express Tribune, September 5th, 2016.