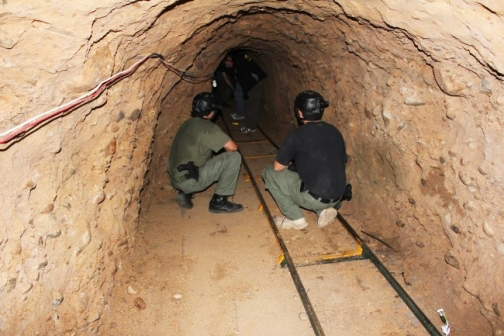 ---
MEXICO CITY: Mexican authorities have uncovered a hidden tunnel from the northwestern state of Sonora to Arizona in the United States, the National Commission for Security said Sunday.

Trump's border wall plan is unrealistic and useless, experts say

The discovery was made while Mexican police, inspecting a drainage pipe that crosses the border, noticed a difference in the surface of the concrete at one point, the CNS said.

After moving some material, the officers discovered a "secret excavation" of a tunnel that was nearly 1.5 meters (five feet) long on Mexican territory and more than 30 meters long in the US.

Half of the tunnel was supported by wood beams and the rest was dirt and rocks -- "apparently in the process of construction, without an exit on the surface," the CNS said.

Trump vows crackdown on immigrants who overstay visas if elected

Authorities on both sides of the border periodically discover this type of hidden tunnel, typically used by drug traffickers or undocumented migrants.

In April, US authorities discovered the longest tunnel yet that was used for bringing in illegal drugs from Mexico.

The 800-meter tunnel from Tijuana in the state of Baja California connected with Otay Mesa, part of the California city of San Diego.
COMMENTS
Comments are moderated and generally will be posted if they are on-topic and not abusive.
For more information, please see our Comments FAQ