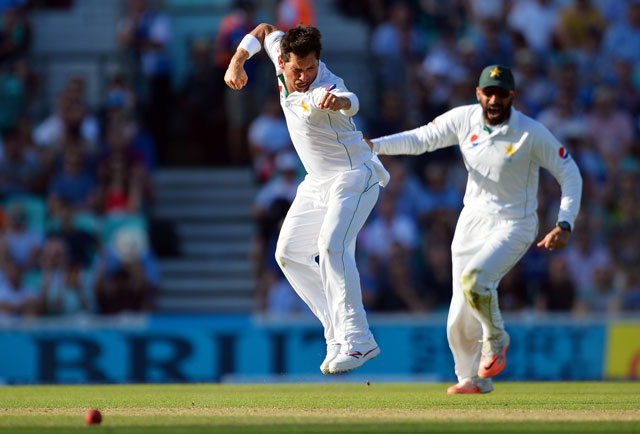 ---
As Pakistan top the table for the first time after ICC Test Rankings' inception in 2003, The Express Tribune compiles a list of what we think are the 10 best or most significant individual contributions in each of the ten wins since October 2014.

From whitewashing Australia 2-0 to squaring the four match Test series in England 2-2, Pakistan have won 10 out of their last 17 Tests, drawing three and losing only four.


In historic first, Pakistan rise to No. 1 in ICC Test rankings


Pakistan have won four out of the six series since their overwhelming triumph against the Michael Clarke-led Australia and other than the England series, Pakistan also drew with New Zealand in November 2014.

Against Australia in 2014: Zulfiqar Babar's five-for in Dubai




The Test was dominated by Younus Khan who scored brilliant centuries in each innings. Ahmed Shehzad and Sarfraz Ahmed also notched a ton each as Pakistan batsmen grounded the visitors on a typical Dubai pitch.

Australia replied with a ton by David Warner in the first innings but the wind was knocked out of their sails in the second innings as Zulfiqar entangled them with a five-wicket haul, Pakistan won by 221 runs.

Against Australia in 2014: Misbahul Haq's 101 & 101* at Abu Dhabi




Pakistan batsmen were even more dominant in the second match of the series, as the middle-order doyen Younus hammered a magnificent 213 off 349 balls an innings that included 15 fours and two sixes. Azhar Ali and Misbahul Haq scored centuries in the first innings before Test captain's belligerent second innings record-equalling fastest century razed the tourists to the ground.


Twitter celebrates as Pakistan closes in on top Test ranking for first time ever


Misbah reached the three figures mark on the 56th delivery of his innings to equal Vivian Richards' record. Pakistan romped home to a 356-run win on the final day with Zulfiqar collecting his second five-wicket haul of the match, Azhar also hit two centuries in the match.

Against New Zealand 2014: Ahmed Shehzad's 176 at Abu Dhabi




After thrashing Australia, Pakistan pulverised New Zealand in the first Test of the three-match series with brilliant batting contributions by Mohammad Hafeez, Younus, Misbah and Shehzad.

Shehzad set-up the dominant win with a 176-run knock which only ended with an unfortunate blow on the head. He was attempting a pull-shot and the impact made Shehzad drop his bat back on to the stumps. Rahat Ali took six wickets in the match to snare the man-of-the-match award as Pakistan completed a 248-run win on the last day of the Test.

Against Bangladesh in 2015: Azhar Ali's 226 in Dhaka




Azhar Ali's maiden double century — 226 off 428 balls, 20 fours and two sixes — set-up a crushing 328-run win in the second Test of the two-match series. Pakistan were stung by a Bangladesh fight back in the first Test which forced a draw but in Mirpur Azhar, Younus and Asad Shafiq piled on the runs to ensure that the hosts fail to claw back for the second successive time. The batsmen were backed well by the bowlers with Yasir Shah taking five and Wahab Riaz collecting four wickets in the match.

Against Sri Lanka in 2015: Yasir Shah's 7-76 at Galle




Pakistan recorded their first win in Sri Lanka in nearly 10 years on the back of a tremendous fight back with the bat courtesy Sarfraz Ahmed's 96 and Asad Shafiq's 130. Their contributions after the cheap demise of the top and middle-order helped the team gain a 117-run lead.

Yasir than bamboozled the Sri Lankan with his leg-spinners despite the presence of no less than four left-handers in the hosts' batting line-up to pave the way for a 10-wicket win in the dying moments of the final day. Yasir's first big match-winning performance was all the more noteworthy considering the Sri Lankan expertise in tackling slow bowlers.

Against Sri Lanka in 2015: Younus' 173* in Pallekele




Arguably the greatest chase in Pakistan's Test history away from home was made possible by an epic contribution by Younus who used all his craft, skill and calibre to score a sublime 173 not out as the tourists hunted down the target of 377 runs on the final day of the Test. The chase began in the second session on day four to not only win the match but also the series 2-1.

Younus hammered his runs off 271 balls with the help of 18 boundaries; he shared a 242-run stand with left-hand opener Shan Masood who scored his first Test century. Misbah contributed 59 runs while Imran Khan bagged his maiden five-wicket haul in the longest format to polish off the Sri Lankan second innings.

Against England in 2015: Misbah's 102 & 87 in Dubai




An absorbing Test was settled late on day five as England fell 178-run short of the 491-run target. The match was set-up by outstanding batting contributions by Misbah who scored his first Test century against England before following it up with a second innings knock of 87.

Wahab Riaz was named man-of-the-match for his reverse swinging spell on the final day which yielded him second innings figures of four for 87 in 41.3 overs on a largely lifeless pitch.

Against England in 2015: Hafeez's 151 in Sharjah




Pakistan sealed a 2-0 series win over England on the final day of the third and final Sharjah Test on the back of a sublime second innings knock of 151 by Hafeez.

The opener was the only one to master the prodigious reverse swing and spin extracted by the English bowlers on day three and four after Pakistan had conceded a 72-run lead in the first innings.

Hafeez's century was the difference between the second innings efforts by the two teams on a wearing pitch that made England's 284-run chase impossible. Yasir took four while Shoaib Malik and Zulfiqar snared three and two wickets respectively as Pakistan won by 127 runs on the final day.

Against England in 2016: Yasir's 10-wicket haul at Lord's




In his first Test outside Asia, Yasir played a decisive role in Pakistan's 75-run win. The leg-spinner's five-wicket haul on the second day of the Test paved the way for a crucial 67-run lead, he took six in all in the first innings before snapping four more wickets in England's second innings as Pakistan shocked the cricketing world with their grit, skill and determination.

Misbah also made an immensely valuable century on the first day of the Test, while Asad, Rahat and Sarfraz also chipped in with significant contributions to tilt the scales in team's favour.

Against England in 2016: Younus' 218 at The Oval




Pakistan ensured a draw in the four-match series courtesy a monumental 218 by Younus, who capped off a depressingly lean run in the earlier three Tests to post one of his greatest ever performances in the longest format.

His sixth double ton was scored off 308 balls with the help of 31 fours and four maximums.

Yasir took five wickets in the second innings while Asad scored his first Test century in England to lay the foundations for Pakistan's 542-run total.

Wahab Riaz breathed fire with his hostile bowling, while Sohail Khan's first innings five-wicket haul also helped the tourists en route to series-levelling victory.