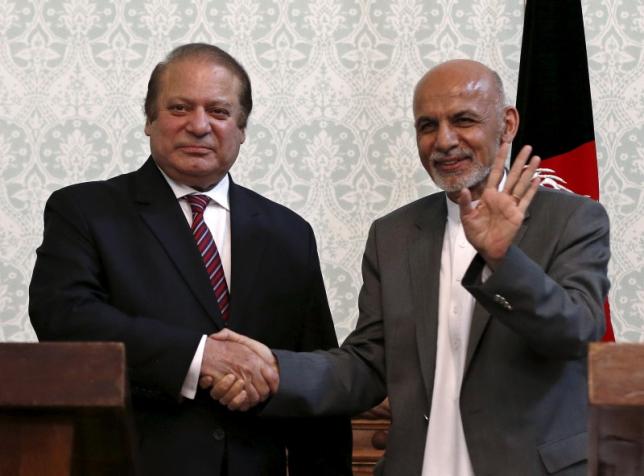 ---
ISLAMABAD: Adviser to the Prime Minister on Foreign Affairs Sartaj Aziz has said Pakistan believes that a politically negotiated settlement through an Afghan-owned and Afghan-led peace process is the most viable option for achieving durable peace in the war-torn country.

"Pakistan desires durable peace in Afghanistan and seeking close cooperative relations with Afghanistan have always been a cornerstone of Pakistan's foreign policy," Aziz said on Friday, while addressing a reception hosted by the Afghan ambassador on his country's Independence Day.

Afghan president invokes Allama Iqbal to garner attention of Pakistani leaders

Underscoring how peace in Afghanistan is linked  to peace and stability in Pakistan, the adviser said ultimately it would also help realise our leadership's vision for promoting connectivity with Central Asia and beyond.

"Prime Minister Nawaz Sharif's vision of a 'peaceful neighbourhood' enshrines a comprehensive partnership with Afghanistan for promoting peace, progress and prosperity in our region," he said.




To realise this vision, he said, Pakistan persistently endeavours for constructive engagement with Afghanistan to further strengthen 'our neighbourly ties', based on mutual respect for sovereignty and territorial integrity and adherence to the cardinal principle of non-interference in each other's internal affairs.

Speaking on the challenges, the adviser said terrorism remains a common threat to both Pakistan and Afghanistan. "Pakistan and its forces are valiantly fighting the menace of terrorism. We have rendered immense human and economic sacrifices in this struggle in recent years," he said.

"In our view, close cooperation between Pakistan and Afghanistan is important for eliminating the scourge of terrorism from our region," Aziz said.

Pak-Afghan border shut in Chaman

He said it was encouraging that increased cooperation between the two countries had manifested in the form of a high-level consultation mechanism that would deepen trust and confidence amongst the two countries.

"It entails an opportunity to collaborate in dealing with our multiple security and political challenges and pave way for forging constructive ties in many areas," he said.

He said Pakistan was committed to the pursuit of comprehensive bilateral engagement in various fields such as in trade, investment, security, counter-terrorism, border management, energy transmission, infrastructure connectivity, Afghanistan's reconstruction and rehabilitation, parliamentary exchanges and cultural, educational and sports links.

The adviser said Pakistan was undertaking a number of reconstruction and development projects in Afghanistan to stimulate socio-economic development. "Under the $500 million assistance package, Pakistan has built roads, schools, universities and hospitals in different parts of Afghanistan," he said.

Will no longer seek Pakistan's help in peace talks: Ghani

The adviser said the prime minister had consistently reiterated his desire for forging a strong trade and economic partnership with Afghanistan to reap the benefit of the two country's strategic locations into mutual economic dividend.

"Enhanced regional connectivity through road, rail and energy transmission networks would enable us to effectively utilise our immense natural resources for economic development of our peoples," he said.

Published in The Express Tribune, August 20th, 2016.
COMMENTS
Comments are moderated and generally will be posted if they are on-topic and not abusive.
For more information, please see our Comments FAQ