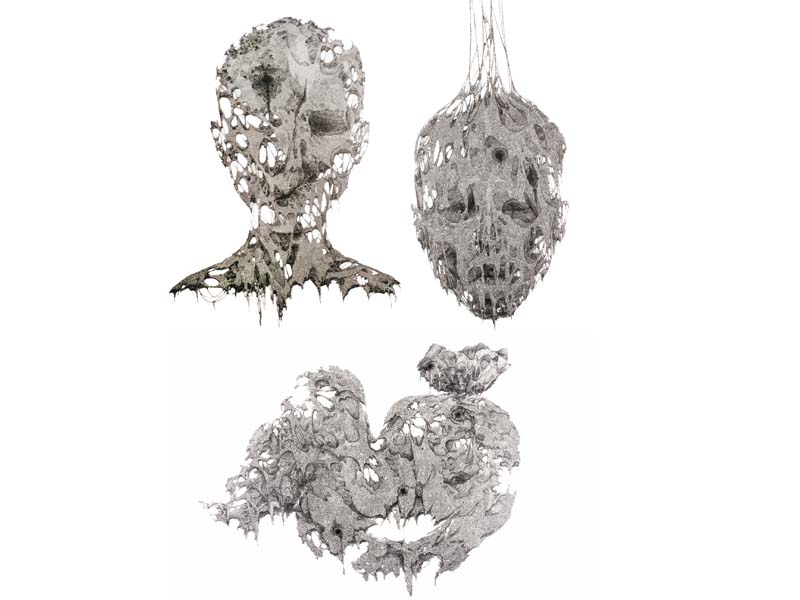 ---
KARACHI: We are tied to the space we call home and to the people who belong to us, believes Saud Baloch. "So much depends on the fortunes of the things we love," he said, adding that if these ties are severed humans become 'too broken to heal'.

Baloch displayed his series of drawings and sculptures at Sanat Gallery on Tuesday evening. "What you see is an imagery that develops from within one-self," he said about his work.

"Displacement and dehumanisation are the concepts I toy with in my art," said the artist. "The mud you see, the earth that you inhabit, the dust that you belong to, everything is relatable. In mud alone you find richness and hope that which belies you," he explained.

Baloch's work is in the form of archival ink on paper or sculptures made of fiberglass and gold water. "My work is about the many things that go wrong with us in a lifetime," he explained.

In his collection titled 'Under the Dust', he expressed his awe at the poetic work of Habib Jalib and paid rich tribute to the victims of the Quetta carnage.




For Baloch, all these attacks manifest in the same way - in the form of art. "Art has a way of expressing itself. You need to feel it, too," he said.

Speaking to The Express Tribune about the exhibit, Sanat Gallery owner Abid Merchant said this is the second time that Baloch has showcased his work at his gallery. "In his work, I have found deep attachment to his roots. Last time he toyed with the idea of 66 sacks made up of jute, depicting 66 years of Balochistan," recalled Merchant. "It is all about under the dust; ashes to ashes and dust to dust! In his work there is detailing about below the surface of the ground. It's totally in-depth," he explained. He termed the work 'inspirational', saying that dust is interrelated to human beings.

The exhibition will continue till August 26.

Published in The Express Tribune, August 18th, 2016.

 
COMMENTS
Comments are moderated and generally will be posted if they are on-topic and not abusive.
For more information, please see our Comments FAQ