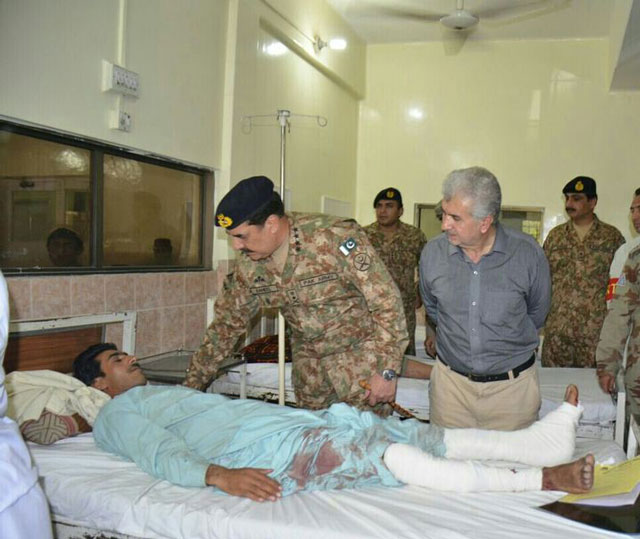 ---
Chief of Army Staff (COAS) General Raheel Sharif has ordered intelligence agencies to carry out country-wide special combing operations to target terrorists in the wake of recent terror attack in Quetta.


Spec combing Ops https://t.co/x83oxhhMoX agencies to go anywhere in the country to target anyone linked with these terror acts-6-'

— Gen(R) Asim Saleem Bajwa (@AsimBajwaISPR) August 8, 2016


The decision was taken during an emergency security meeting chaired by the army chief at Pakistan Army's Balochistan Corps Headquarters on Monday.


#COAS chairs security mtng.CM&CS Bln,Commander Southern Comd present.Having been defeated in KPK,terrorists shifting focus to Bln...-4

— Gen(R) Asim Saleem Bajwa (@AsimBajwaISPR) August 8, 2016


Over 60 people were killed in Monday's attack when a powerful explosion ripped through Quetta's Civil Hospital as witnesses described tearful staff rushing towards the smoking blast site to help dozens of wounded.

63 killed in blast at Quetta's civil hospital after lawyer's killing

The explosion came as up to 200 people gathered at the city's major government hospital after the fatal shooting of a senior lawyer.

"Having been defeated in Khyber-Pakhtunkhwa the terrorists are shifting their focus to Balochistan," military's media wing, ISPR, quoted General Raheel as saying.

The army chief declared the attack in Balochistan's provincial capital an attempt to undermine security in the province, especially targeting the China-Pakistan Economic Corridor (CPEC) project.


Is an attempt to undermine improved security in Bln,specially targeting CPEC.All resources to be employed to control situation.-5

— Gen(R) Asim Saleem Bajwa (@AsimBajwaISPR) August 8, 2016


He directed the security institutions to make use of all available resources to control the overall law and order situation in the country.

Earlier during the day, the army chief arrived at the Civil Hospital Quetta and inquired after the injured victims of the blast.

The COAS also directed the authorities concerned to provide best medical care to those admitted at the hospital.

Facebook activates 'safety check' feature following Quetta blast


COAS visited injured in Civ Hosp.Expressed solidarity with 'em.Serious patients shifted to CMH.To chair security conf with civ/mil ldrship-2

— Gen(R) Asim Saleem Bajwa (@AsimBajwaISPR) August 8, 2016
Quetta:2seriously injured evacuated to Kci.20 more being evacuated on mil plane to various hospitals in different cities on required basis-3

— Gen(R) Asim Saleem Bajwa (@AsimBajwaISPR) August 8, 2016
#COAS in Quetta,visits Balochistan High Court,offers condolences with CJ Bln,panel of judges for all those who lost their lives-1

— Gen(R) Asim Saleem Bajwa (@AsimBajwaISPR) August 8, 2016


"The COAS visited Balochistan High Court and offered condolences to chief justice Balochistan and the panel of judges," DG ISPR Lt-Gen Asim Saleem Bajwa tweeted.

"General Raheel visited Civil Hospital and expressed solidarity with the injured. Serious patients have been shifted to Combined Military Hospital," he added.

Two victims were shifted to Karachi for immediate treatment, Bajwa said, adding that about 20 more will be shifted on a military plane to various cities.
COMMENTS (19)
Comments are moderated and generally will be posted if they are on-topic and not abusive.
For more information, please see our Comments FAQ