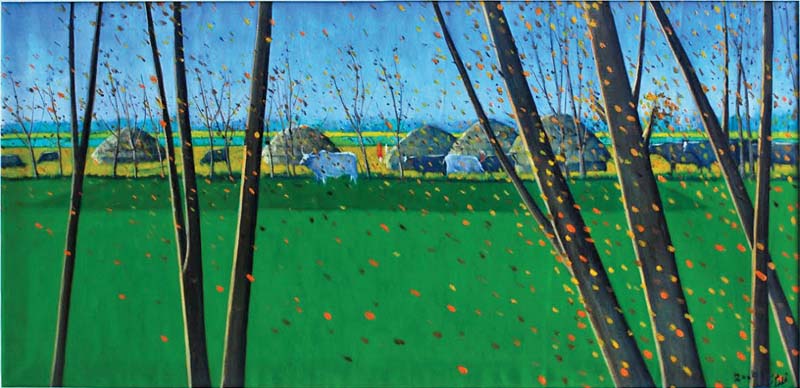 ---
KARACHI: All paintings talk but sometimes a master artist is required to convey meaning through art work. The work of 40 such master artists was displayed at Clifton Art Gallery on Wednesday evening.

Some of the artists' work, such as Sadequain, Gulgee and Bashir Mirza, was being displayed posthumously but there were other artists whose work was on display such as AQ Arif, AS Rind, Abdul Jabbar Gull, Farrukh Shahab, Iqbal Hussain, Mudassar Manzoor, Waseem Ahmed and Mussarat Arif among others.

However, though the paintings were at the gallery, no one belonging to the art community was present at the exhibition.




"There is a general display of the collection and one would be very interested to see that there is not just one theme that we are following for this exhibit; there are delightful landscapes to see, figurative features, calligraphy besides of course miniatures and abstracts," said Akbar Pasha, the gallery's manager.

However, the contemporary artists and their modern collections were not being displayed at the gallery. "We go according to international taste and the international market," explained Pasha. "We have noticed that international buyers are inclined towards buying the work of senior artists," he said.


Ahmed Parvez. PHOTOS: COURTESY CLIFTON ART GALLERY

Clifton Art Gallery is almost two decades old and was previously located near Teen Talwar, said gallery owner Rizwan Zakai. "Many of the collection you see here belongs to me personally, the remaining 40% are from clients who are willing to sell their artwork to new buyers," he said.

There are definitely buyers in Karachi, according to Zakai. "Since about five years ago art has thrived as a business and awareness has risen in the masses, from art schools to art lovers all have shown an inclination towards art."

"Globally, Indian artists' work was getting prominence with exhibitions all over the world, however in recent times many foreign buyers have shown interest in Pakistani artistic work and artists who are cherished belong to the old school [of work]," he said.

The exhibition continues till the August 13.

Published in The Express Tribune, August 5th, 2016.
COMMENTS
Comments are moderated and generally will be posted if they are on-topic and not abusive.
For more information, please see our Comments FAQ