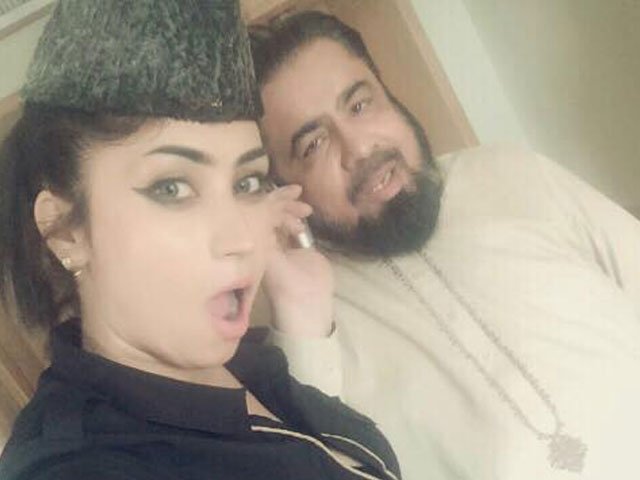 ---
MULTAN: Days after controversial selfies and videos of Qandeel Baloch and Mufti Abdul Qawi went viral, the self-proclaimed model has demanded the government provide her security, claiming she is receiving life threats from the cleric.

"I am getting life threatening phone calls from Mufti Abdul Qawi, my life is constantly in danger and it is the duty of the government to protect my life and to provide me with security," Qandeel told The Express Tribune.

PTI suspends Mufti Qawi's party membership over Qandeel Baloch controversy

"I have decided to file an FIR if the situation persists."

Following the posts on social media, Mufti Qawi's membership was suspended from the Ruet-e-Hilal Committee, as well as Pakistan Tehreek-e-Insaf.

Talking to The Express Tribune over phone, the social media starlet said she had not apologised with Mufti Qawi.

"I have unveiled a man who was leading the people towards ignorance in the name of Islam," Qandeel said. "I will continue to unveil this hypocrite face of religious clerics who are defaming our religion and country."

The 'Kim Kardashian' of Pakistan, who frequently posts semi-nude selfies, claimed Mufti Qawi had asked about her choice of cigarette and drink which led her to think that "he would trap her."

"This is why I took selfies with Mufti Sahab," she said.

"He also said that you must forget Imran Khan as he is 65 years old and live with me... I am only 50 years old. We will not make public our nuptial agreement."

When Qandeel Baloch met Mufti Qavi: A guideline on how NOT to learn Islam

Qawi was widely ridiculed when Qandeel uploaded the pictures earlier this week along with a video of herself with the preacher, wearing his hat and pouting.

In the video which was uploaded on the actor's Facebook account, Qawi is seen saying he will guide the starlet on religious matters and she had agreed to become his student.

Profile

The 25-year-old model belongs to the tribal area of Shah Sadar Din of District Dera Ghazi Khan in south Punjab, and started her career as a bus hostess.

Her real name is Fouzia Azeem but chose Qandeel Baloch as her pseudonym after stepping into modelling.

She eloped with her boyfriend in 2004 while still in school, and claims to have visited South Africa, Middle East and other western countries.

Cleric pays price for selfies with Facebook celebrity

Though she is reviled by many and frequently subjected to misogynist abuse online, Qandeel has won praise by a segment of youth for her forthright attitude.

On Valentine's Day, she donned a plunging scarlet dress and posted a video message defying President Mamnoon Hussain, who had issued a stern warning against the "Western" holiday. The post garnered more than 70,000 'likes'.
COMMENTS (18)
Comments are moderated and generally will be posted if they are on-topic and not abusive.
For more information, please see our Comments FAQ