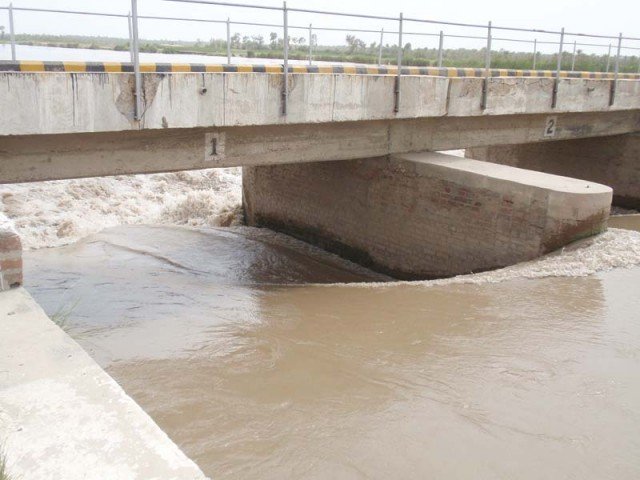 ---
SUKKUR: Water was released in the Rohri Canal on Sunday evening after 15 days bringing good news to the farmers who feared for their crops.

Water discharge in the canal was suspended around 20 days ago due to the crumbling flank walls of the Phull Fall Regulator near Naushero Feroz. Due to this, growers throughout Sindh experienced an acute water shortage.

Repair work on the Phull Fall Regulator has been completed, after which the water was released into the Rohri Canal. The regulator's flank walls collapsed late on June 2, causing water discharge in the Rohri Canal to be reduced from 14,000 cusecs to 1,500 cusecs, which is almost zero for such a big canal.

As a result of the closure of the canal, growers in different parts of Sindh, including, Khairpur, Naushero Feroz, Shaheed Benazirabad, Hyderabad, Sanghar and Badin, were left without water causing extensive damage to the kharif crops, especially cotton. The irrigation authorities were forced to release 3,500 cusecs of water in the canal after growers began to protest. The 3,500 cusecs of water passed through the Phull Fall Regulator's bypass but was insufficient.

However, the irrigation authorities ordered the immediate repair of the regulator and work was completed on Sunday. Sukkur Barrage chief engineer Wali Muhammad Naich, who was camped at the Phull Fall Regulator, told The Express Tribune that the repair work has been completed and, on Sunday evening, 12,000 cusecs water was released in the Rohri Canal.

According to him, on Monday, 13,000 cusecs of water was discharged and water is passing through the Phull Fall Regulator smoothly. "I am not an agriculture expert but can tell that extensive damage has been caused to the kharif crops due to the closure of the Rohri Canal," he said.

Published in The Express Tribune, June 21st, 2016.
COMMENTS
Comments are moderated and generally will be posted if they are on-topic and not abusive.
For more information, please see our Comments FAQ