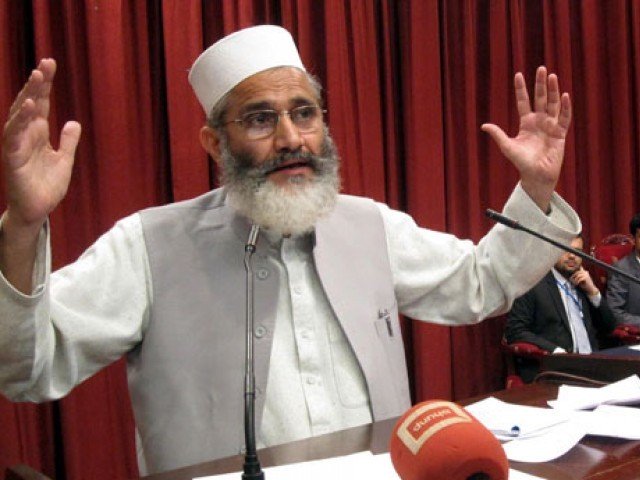 ---
LAHORE: Jamaat-i-Islami (JI) chief Sirajul Haq said on Friday that the continuing deadlock over terms of reference (ToRs) for a probe into the Panama Papers revelations was proof that some elements did not want across-the-board accountability to take place.

Addressing a Friday congregation, he said some people had reservations that others would be held accountable in the wake of Prime Minister Nawaz Sharif. He said all such elements wanted to evade accountability by rendering the judicial commission controversial.

However, Haq said, the people wanted the nation to be rid of the enshrined system of exploitation and plunder.

He said the people were desperate for ruthless accountability. Haq said no individual would be able to get away scot-free this time around.

The JI supremo said the NAB chairman ought to be appointed by the chief justice of Pakistan following consultation with all high court chief justices and not by the prime minister with the consent of the Leader of the Opposition in the National Assembly.

He said financial malpractice had to be eradicated for the country to be made safe for its citizens.

Haq said anti-terrorism laws should be applied to those guilty of corruption.

He said those guilty of embezzling public money should be barred from holding office and jailed for at least 25 years.

He said that the nation had been grappling with both, internal and external threats.

Haq said this had left the people crestfallen.

He said the people ought to remember their covenant with the almighty on the establishment of an Islamic way of life in the country.  He said only an Islamic system of governance could guarantee national stability and progress.

Haq said the nation's leaders would have to bid adieu to man-made systems and enforce Islam if they were serious about overcoming crises.

The JI chief said the airing of programmes featuring men and women dancing across various television channels at iftar contravened the sanctity of Ramazan.

He said such programmes invited divine wrath.

Siraj urged the Information Ministry to immediately proscribe such broadcasts.

The JI chief bemoaned what he called the open sale of eatables across eateries in Ramazan.

This, he said, gave the impression that Pakistan was not an Islamic state.

Published in The Express Tribune, June 18th, 2016.