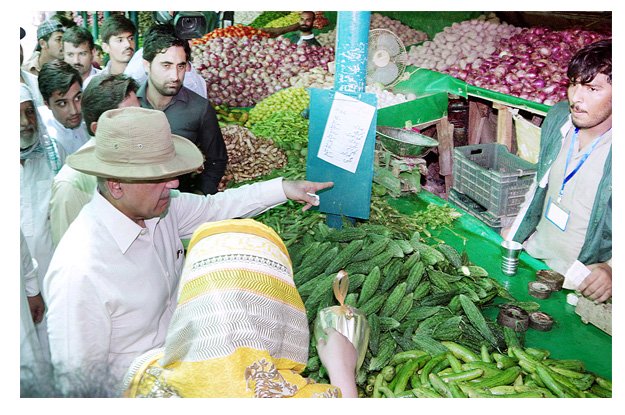 ---
LAHORE: Chief Minister Shahbaz Sharif on Friday announced that Ramazan Bazaars' timing was being extended from to 9am to 9pm "on citizens' demand". The markets had earlier been operating from 9am until 6pm.

The chief minister, who returned from London on Friday morning, paid a surprise visit to the Township bazaar. A statement issued by the Directorate General of Public Relations said Sharif was not accompanied by protocol officials.

He inspected the quality of essential items, including fruits, vegetables, flour, sugar and chicken. Expressing satisfaction with the arrangements, he praised the officials concerned for their efforts in this regard.

He directed the bazaar administration to offer pulses and gram flour in a 500-gm packing. The chief minister spoke to some of the shoppers and took their feedback. He listened to the complaints made by some consumers and issued directives to redress those.

Sharif said surprise visits by ministers and MPAs helped improve the services offered there. "This also helps solve people's problems." He said he would continue visiting Ramazan Bazaars to make sure that citizens get the intended relief.

He said no compromise would be made on the quality and prices of essential items. "I am satisfied with the prices and quality of products at Township Ramazan Bazaar. All arrangements are satisfactory," the chief minister said. Sharif also visited an agricultural fair price shop at the bazaar and appeared satisfied with the arrangements there. He said he was pleased to see cleanliness arrangements at the bazaar.

Speaking to reporters, Sharif said, "I returned to Lahore from London this morning and decided to visit the Ramazan Bazaar to inspect the arrangements."

Commenting on Prime Minister Nawaz Sharif's health, the chief minister said the premier was recovering fast following his heart surgery. "He will soon be back among his countrymen," he said. He said he was thankful to the people for praying for the early recovery of the prime minister.

Separately, the chief minister condoled with the families of those who had died when a structure at a mosque in Karachi caved in during Friday prayers. He prayed for the early recovery of those injured in the accident.

Some of the shoppers gathered around and shouted slogans in favour of the chief minister. They also congratulated him on the prime minister's recovery.

Published in The Express Tribune, June 11th, 2016.