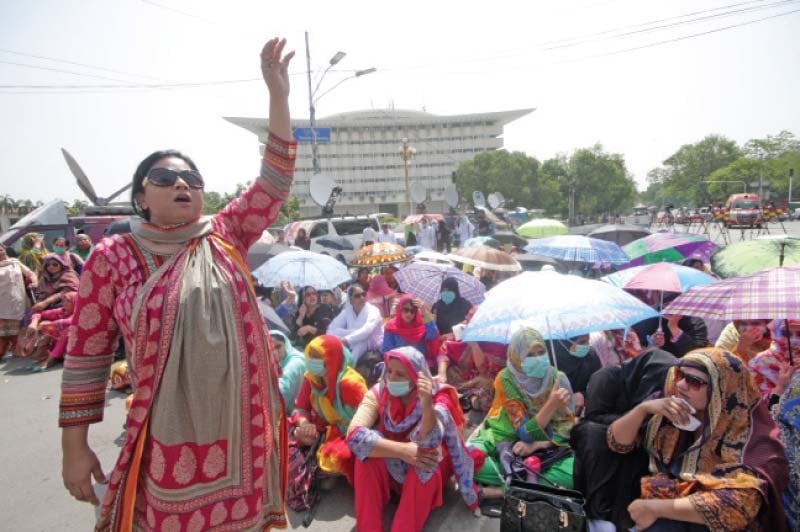 ---
LAHORE: A demonstration by dozens of nurses from public sector hospitals – demanding a better service structure and health-risk allowance – continued on The Mall for the fourth day on Thursday.

The activists from the Punjab Young Nurses' Association (YNA) said they would not call off the sit-in that started on Monday until their demands were met. Three of the nurses fainted apparently from heat as maximum temperature in shade was recorded at 39 degree Celsius on Thursday. They were moved to Ganga Ram Hospital.

"We have reached out to the protesters and asked them to negotiate their demands," a spokesperson for the Health Department told The Express Tribune. He said the department was willing to address problems faced by nurses. "But the demands are irrational. The department does not have the resources to fulfil those." Nasira Parveen, a representative of the YNA, denied that they had met any government leader on Thursday. "No one from the YNA has met any government official," she said.

She claimed that the Health Department had agreed last year to meet their demands. "Like doctors, we receive a four-year training before we start our careers… but we get an allowance similar to paramedics. We are way more qualified [than paramedics] and the nature of our job is different."

Patients' misery

Patients and doctors faced problems in the absence of some of the nursing staff at public hospitals across the province.

Dr Zafarullah, a representative of the Young Doctors' Association (YDA), said the protest had added to the doctors' burden. He said the association had requested the government to arrange for additional staff. He said the YDA supported the nurses' demands.

A doctor at Mayo Hospital said the hospital was already understaffed. "We now have to perform the duties of nurses as well. Instead of abandoning their work, they should have negotiated with the department," he said.

Traffic woes

The sit-in caused problems for commuters on The Mall and adjoining roads. A spokesperson for City Traffic Police said they had created 13 diversions on The Mall to facilitate the flow of traffic. He said the CTO had been monitoring the traffic situation.

Published in The Express Tribune, June 3rd, 2016.
COMMENTS
Comments are moderated and generally will be posted if they are on-topic and not abusive.
For more information, please see our Comments FAQ