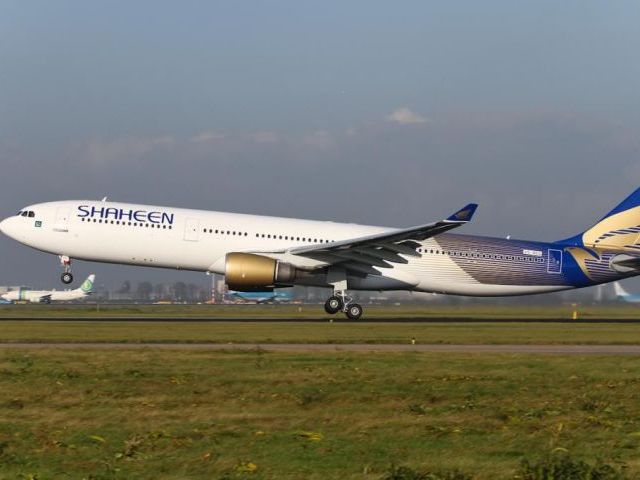 ---
LAHORE: A Dubai-bound Shaheen Air flight narrowly escaped a crash on Thursday when its tyres burst just before takeoff at Lahore's Allama Iqbal International Airport.

The engine of Shaheen Air flight NL-766 started making loud noises seconds before takeoff which prompted the pilot to apply emergency breaks to keep the plane on the runway, sources told The Express Tribune.

However, the breaks caused three of the plane's tyres to burst. No loss of life was reported.




Civil Aviation Authority (CAA) personnel as well as engineers of Shaheen Air reached the spot and started rescue activities.

There were around 160 passengers on-board the flight, however, no one was harmed in the incident, according to sources in the CAA.

Shaheen Air crash-lands in Lahore, CAA denies reports of casualties




Following the incident, CAA announced the primary runway of Lahore airport has been closed for a brief period of time.

https://twitter.com/AirportPakistan/status/738280502075883520

This is not the first time a Shaheen Air flight has met with an accident. In November last year, a Lahore-bound Shaheen Air flight, carrying 121 passengers and crew members, had made an 'emergency landing' at the Lahore airport as the aircraft skidded off the runway.

The CAA had accused the pilot of the passenger flight of being drunk and fatigued as he flew the plane.

"The allowed blood alcohol concentration level for pilots is 0.03, but the [flight NL-142] pilot's was 0.83 at the time [of the crash]," a CAA official said.

Earlier this year, a pilot of Shaheen Air passenger plane refused to fly the aircraft after he found a hole in one of the wings of the plane seconds before departing for Saudi Arabia from Peshawar.

Faulty aircraft: Pilot finds hole in Shaheen Air's plane

An official at Bacha Khan International Airport told The Express Tribune around 330 passengers were scheduled to depart from the airport on flight NL-721 at 10:15pm on Monday, to reach Jeddah.

However, when the pilot reached the cockpit, he saw one of the wings had a hole in it and could possibly crash seconds after taking off from the runway.