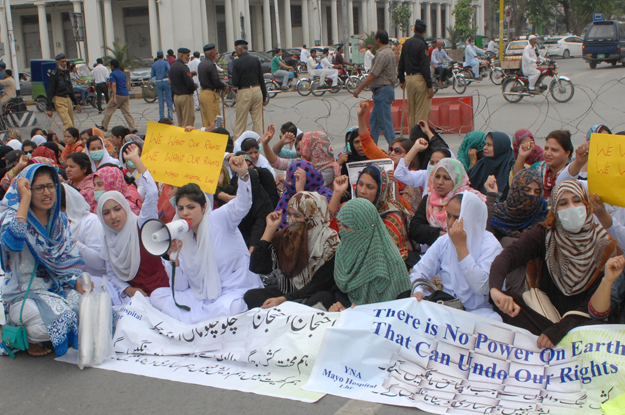 ---
LAHORE: Dozens of nurses staged a protest demonstration on Monday demanding a better service structure.

The nurses, belonging to the Punjab Young Nurses' Association, staged a sit in at the Charing Cross. They blocked The Mall for traffic. The protesters shouted slogans against the government and carried placards with their demands written on them.

The protesters said that they had not been given the health risk allowance. "It had been promised to us by the government. The promise has not been fulfilled. Similar benefits are being provided to doctors and some paramedics," they said.

They said that nurses were being discriminated against. "Earlier this year, we had held similar demonstrations. During talks that followed, government representatives had acknowledged our concerns and promised to address them. However, nothing has been done so far. Now, we will continue our protest until our demands are met," they said.

Later, Specialised Healthcare and Medical Education Secretary Najam Ahmed Shah talked to a delegation of the protesters. However, the talks did not succeed. The nurses will resume their sit-in at 9am on Tuesday (today).

Earlier on Sunday, Salman Rafiq, the Health adviser to chief minister, had said that strict action would be taken against those creating hurdles in the treatment of patients and forcing nurses to strike.

Published in The Express Tribune, May 31st, 2016.