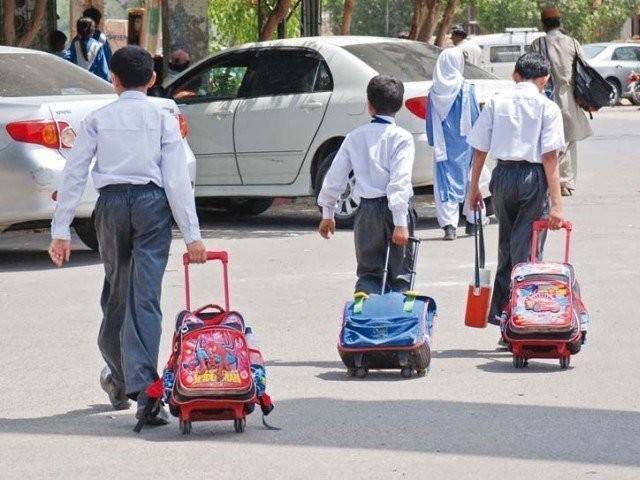 ---
LAHORE: As some schools remained open on Thursday despite the announcement of early summer vacations, some claimed of being forcibly closed by the government.

All Pakistan Private Schools' Federation (APPSF) president Kashif Mirza told The Express Tribune elite schools were operating with impunity while punitive action was being taken against other private institutes. "Schools where children from the middle class study are being victimised," Mirza said. He said police had been conducting raids across schools affiliated with the federation and forcibly closing them. Mirza said some affiliated schools had also received show cause notices from the government. "We are being discriminated against despite clear instructions by Education Minister Rana Mashhood on the holding of examinations," he said.

Mirza said the APPSF strongly condemned the action, which accorded preferential treatment to schools catering to children of the elite. Mirza said over 2,000 private schools had received show cause notices from the government and were not being allowed to hold examinations. He demanded pertinent rules and procedures to be applied to all private schools without distinction.

The APPSF president said all children had the fundamental right to education and to appear for examinations. He said it would be ensured that no school where examinations were being conducted was closed on this account.

Pakistan Education Council (PEC) spokesperson Kamran Malik said schools affiliated with the body had rescheduled some examinations and closed early for the summer. He said this had been done in accordance with government directives. Malik said examinations for some classes that could not be rescheduled were in progress. He said all remaining affiliated schools would close for summer vacations on June 6.

On May 23, Mashhood had announced summer vacations from May 24. He had warned that schools which failed to adhere with government directives would be sealed. However, Mashhood had said, schools conducting examinations would be exempt.

He had said the administration of such schools would have to submit copies of date sheets to pertinent officials in this regard.

Mashhood had said schools where examinations were being conducted would not be allowed to take part in any other academic activity.

He had said that the department had decided to announce early summer vacations due to the unrelenting heat wave sweeping across much of the region.

Mashhood and Education EDO Tariq Rafiq did not respond to calls and text messages despite repeated attempts.

Published in The Express Tribune, May 27th, 2016.