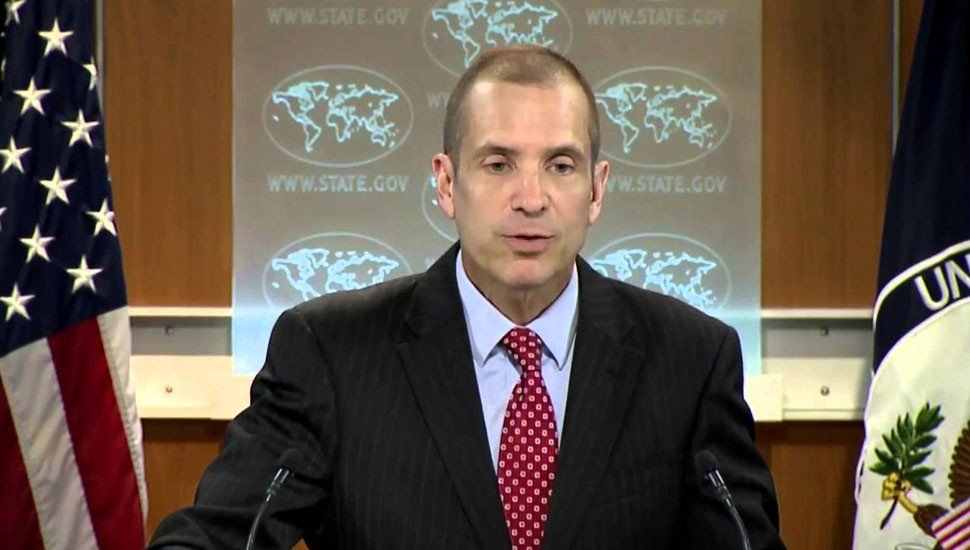 ---
The United States on Tuesday said it is still unclear which side of the Pakistan-Afghanistan border Taliban leader Mullah Akhtar Mansour was killed in.

When asked about the precise location of the drone strike on the late Taliban supremo, US State Department spokesperson Mike Toner said, "I don't have any more clarity of where the actual strike took place. What I can say is that it was in that border region. I just can't say on which side of the border it was."

Pakistan seeks 'clarification' of US strike on Afghan Taliban leader

Responding to a question if he was "doubting the claim from Pakistan that it was in their territory," Toner said, "The Pakistani government is able to speak on behalf of itself. I'm not going to doubt its claim. I'm just saying the information that we... are willing to share is that it was in the Afghanistan-Pakistan border region."

Toner went on to say the US will continue striking terrorists posing threats to US forces on Pakistani territory. "We certainly do respect Pakistan's territorial integrity, but as we've said before, we will carry out strikes to remove terrorists who are actively pursuing and planning and directing attacks against US forces," the US State Department spokesperson upheld.

Frequent traveler Mullah Mansour used Pakistan airports

Massive protests were staged throughout Pakistan against the violation of its sovereignty following the US drone strike on its soil. When asked if the latest developments would impact US relations with Pakistan, Toner said, "We have been in touch with them, obviously. We've talked about this airstrike. We continue to talk to them about how we can collaborate and cooperate on rooting out these terrorist organizations and these organizations or these groups that continue to use Pakistan's territory to carry out attacks."

The Afghan Taliban chief was killed in a drone attack near Quetta on Saturday, in what was the US' first-ever drone strike in Balochistan.

US President Barack Obama has hailed the killing of Mullah Akhtar Mansoor as an 'important milestone' in efforts to restore peace in Afghanistan, but Pakistani officials believe it was a 'big gamble' by the United States that could change the dynamics of the Afghan conflict.

While official reaction from Islamabad has so far been muted, hectic consultations are under way both at the level of the security establishment and the Foreign Office to chart out a future course.

Pakistan summons US envoy over drone strike inside territory

Background discussions with security and foreign policy officials show that the American move to eliminate the Afghan Taliban chief is 'fraught with danger'. The immediate risk, according to the officials, is that Afghanistan might slip into chaos as the insurgent group might have lost its chief but not its capability to mount large-scale deadly attacks.

There is also danger of factionalism in the Taliban movement. And in that scenario, rival ultra-extremist groups such as the Islamic State might gain ground – something that would not favour Afghanistan, Pakistan or even the United States, cautioned officials.

Pakistan is frustrated because Mansoor was targeted at a time when efforts were under way to bring the Taliban to the negotiating table. Although officials admitted the Taliban have so far been unresponsive to the quartet-backed peace initiative, this did not mean the group refused to engage in the future.

Who will succeed Mullah Mansoor? 

In fact, Mansoor favoured talks. "It was Mullah Mansoor who had sent his emissaries to Murree in July last year," revealed another official. "If he [Mansoor] did not favour talks, then why would he send his emissaries?"

Pakistan also felt 'betrayed' and 'deceived' by the US as according to officials there was an understanding among quartet members that the Taliban leaders would be given a safe passage for travelling. Many Taliban leaders had travelled on Pakistani documents to Doha and other countries – and the US authorities knew that.

The travel history of Muhammad Wali, who was believed to be Mansoor, showed he was a frequent traveller. A copy of his travel history obtained from immigration authorities shows Mansoor had travelled to Iran, Dubai, Karachi and even Bahrain over the past few years.
COMMENTS (9)
Comments are moderated and generally will be posted if they are on-topic and not abusive.
For more information, please see our Comments FAQ