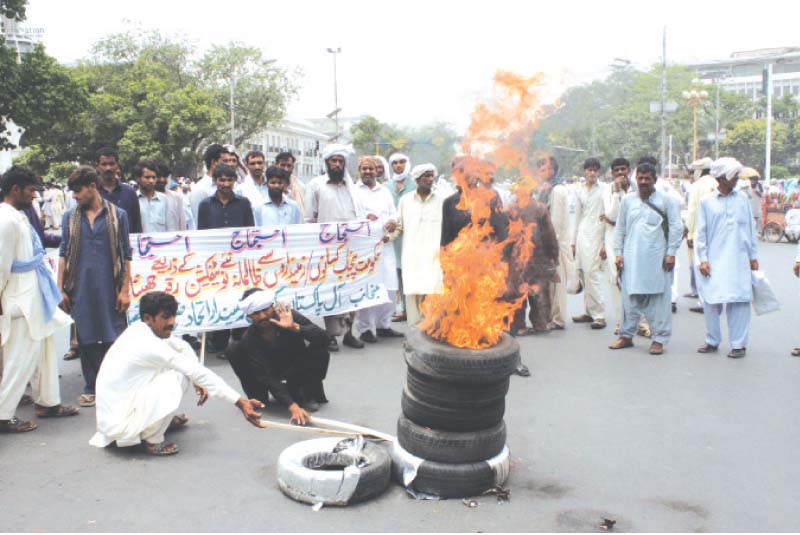 ---
LAHORE: Some Pakistan Tehreek-i-Insaf (PTI) leaders on Monday demanded that the government immediately address all concerns expressed by farmers.

Several PTI leaders joined a protest demonstration by Pakistan Kissan Ittehad (PKI) in front of the Provincial Assembly chambers at Charing Cross.

The PKI has said it is demanding that the government impose an "agricultural emergency". The protesters asked the government to end agricultural trade with India, fix support prices, provide subsidies on electricity, and remove the GST on agricultural inputs.

On Friday, the PTI had announced that it would take part in the farmers' protest. The party leaders reached the venue in two groups. Chaudhry Sarwar and Leader of Opposition in the Provincial Assembly Mian Mehmoodur Rasheed had arrived at Charing Cross before Shah Mahmood Qureshi, Shafqat Mahmood and Waleed Iqbal.

They called on the government to agree to farmers' demands or face more protest demonstrations and sit-ins. Qureshi said it seemed that the provincial government was not serious in addressing farmers' problems and giving them their due right. He said the PTI would resort to protest if the government ignored farmers' interests in the upcoming national budget.

Qureshi said the subsidies announced by the government rarely benefit farmers. He also criticised delay in payments to farmers by sugar mills owners. "The government has failed to form an appropriate policy for the farmers," the PTI leader said.

Sarwar said the government needed to review its policies and should focus on issues plaguing the society. He demanded that the government drop false cases registered against some farmers. He said that instead of spending Rs200 billion on the Orange Line Metro Train project, the government should have addressed other concerns of people.

He criticised the government for allowing agricultural trade with India saying that this had affected the local farming community. Sarwar told the farmers that the PTI stood by them and that the party would continue to join them in their protest demonstrations.

Pakistan Awami League chief Sheikh Rashid accused the government of making tall claims but doing nothing practical for people's welfare. He said the people would not remain silent on the issue of Panama Papers. He said a campaign would be launched against the government after Eid.

Published in The Express Tribune, May 24th, 2016.