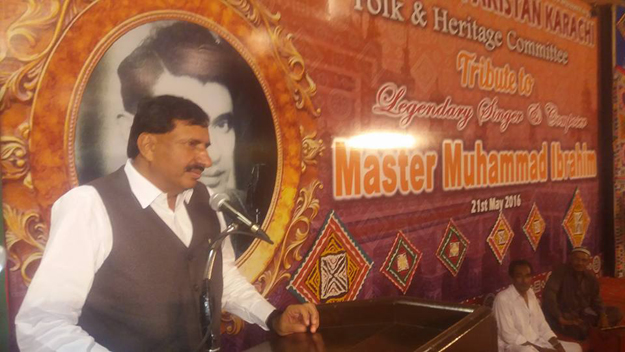 ---
KARACHI: For the first time, a tribute was held for Sindhi classical singer Master Muhammad Ibrahim at the Arts Council of Pakistan in Karachi on his 39th death anniversary.

"I'm really relieved to see in my lifetime that my father's death anniversary is being celebrated by an institution," said Noor Muhammad Bala. He added that today is the second occasion that he has felt proud of being the son of Master Ibrahim and has felt that his father is receiving the honour he deserves. For Bala, the first time was when his father received the Shah Latif Award 30 years after his death.

Writer and critic Kanhaiya Lal Nagpal said though Master Ibrahim was originally not from Sindh, he composed the poetry of Shah Abdul Latif Bhittai and Sachal Sarmast into songs and sang with a soulful voice. Nagpal said his voice had the ability to attract listeners and has contributed widely to Sindhi classical music.




According to Bala, his father migrated to Karachi from a village near Salaya in Gujarat in 1942 when he was 21 years old. At the time he only knew the Kachi language but his love and dedication for the work of Bhittai made him learn Sindhi, said Bala.

In 1948, he joined Radio Pakistan in Karachi and then, in 1955, joined Radio Pakistan Hyderabad as a music composer. He was also part of the singers who sang the first national anthem ever recorded in Pakistan, claimed Bala.

Journalist Ayoub Shaikh said that they contacted PTV to obtain Master Ibrahim's records for the tribute. The PTV people said all the recordings by Master Ibrahim were deleted during the era of Ziaul Haq, he said. He appealed to the public to contact the Arts Council if they have any of Ibrahim's recordings and can help in their preservation.

"Artists of Master Ibrahim's stature are forgotten and their names are in oblivion today and that's the reason why the Arts Council has decided to celebrate his works," he said, criticising official institutions charged with the preservation of the province's culture. A number of performances of Master Ibrahim's compositions were given by one of his disciples, Abdullah Panhwar and Ghulam Ali Kachi, the son of another disciple. Another young singer, Narodha Malni, also performed one of Master Ibrahim's compositions with her soulful voice and entertained the audience.

Besides being a composer Master Ibrahim was also playback-singer, poet and music teacher. He was given the titles of 'The Messenger of Shah Latif Bhittai 'and 'Music University'. He died in 1977 at the age of 56.

Published in The Express Tribune, May 23rd, 2016.
COMMENTS
Comments are moderated and generally will be posted if they are on-topic and not abusive.
For more information, please see our Comments FAQ