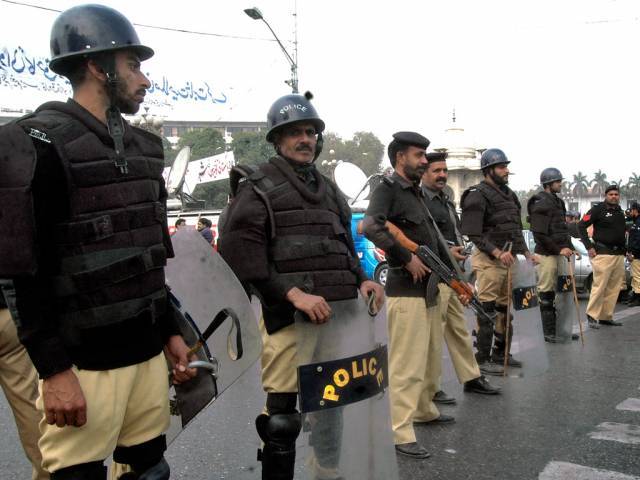 ---
MULTAN: Counter terrorism police and intelligence personnel claimed on Thursday to have thwarted a terrorist attack on the Bahauddin Zakariya University (BZU) after killing eight militants and arresting six more in a joint raid in Multan.

Officials said a group of 20 militants had converged near the Nawabpur village on the bank of Chenab River to discuss a plan to attack the university in a style similar to January's Charsadda university attack.

The information of the meeting was provided to the authorities and a joint operation was launched by the Inter-Services Intelligence (ISI) and Counter Terrorism Department (CTD) of Multan police.

After an intensive shootout, in which militants also used rocket-propelled grenades, the forces killed eight of the 20 terrorists. Six militants managed to flee while their six accomplices were arrested.

A CTD official requesting anonymity told The Express Tribune that al Qaeda commanders Muneeb Javaid alias Kandahari and Tayyab Nawaz alias Hafiz Abdul Mateen along with Muneeb Razzaq alias Abdul Rehman and Zeeshan alias Abu Dujana were coming to Multan to hold a meeting with another commander Bilal Lateef alias Yasir Punjabi and the militants, including two suicide bombers, to plan an attack on the BZU.

He said Lateef and Javaid managed to flee the shootout along with their four accomplices.

CTD officials said six dead terrorists had been named while the two remaining bodies were still unidentified.

Razzaq and Zeeshan were proclaimed offenders in the assassination case of Brig Fazal Qadri in Sargodha.

Nawaz was one of the founders of al Qaeda in Pakistan and was believed to be the mastermind of Parade Lane attack in Rawalpindi. He was a member of the militant outfit's supreme body for finance, recruitment and logistics.

Officials claimed to have found a suicide jacket, two Kalashnikov rifles, two pistols and three grenades from the site of the shootout.

Security threats

The ISI has also issued a warning letter to the Multan district government, warning the authorities of the possibility of attacks on educational institutes in south Punjab.

According to the letter, terrorists might attack educational institutes in south Punjab with the BZU and Nishtar Medical College on top of the hit list.

Multan DCO Nadir Chatta said the police and other law enforcement agencies were directed to step up security measures outside educational institutes. He added concrete plans were being chalked out to avoid any untoward incident.

Published in The Express Tribune, May 20th, 2016.
COMMENTS
Comments are moderated and generally will be posted if they are on-topic and not abusive.
For more information, please see our Comments FAQ